Dolby Atmos is now offered at no additional cost to Apple Music service subscribers. This evolution is a real game-changer and allows you to completely rediscover your favorite songs (if they are compatible).
In 2021, Apple Music is evolving. Now, subscribers to the music streaming service can enjoy better sound reproduction. And while the Lossless format – lossless – is reserved for an equipped elite (you need the hardware and, above all, the ears for), the arrival of Dolby Atmos is a real blessing. In the past, we have often seen these formats take more of the form of marketing badges, the benefits of which are hardly felt. With Dolby Atmos on Apple Music, that's not the case at all.
Dolby Atmos is the most advanced audio format developed by Dolby. Film buffs have been taking advantage of this for several years, as long as they have the right equipment. It allows greater immersion in films, with a more precise distribution of effects, able to wander on a three-dimensional plane. To convince you of its usefulness, we will give the following example: when a helicopter appears on the screen, we have the impression that it is flying above our heads. In the musical field, the contribution is quite different.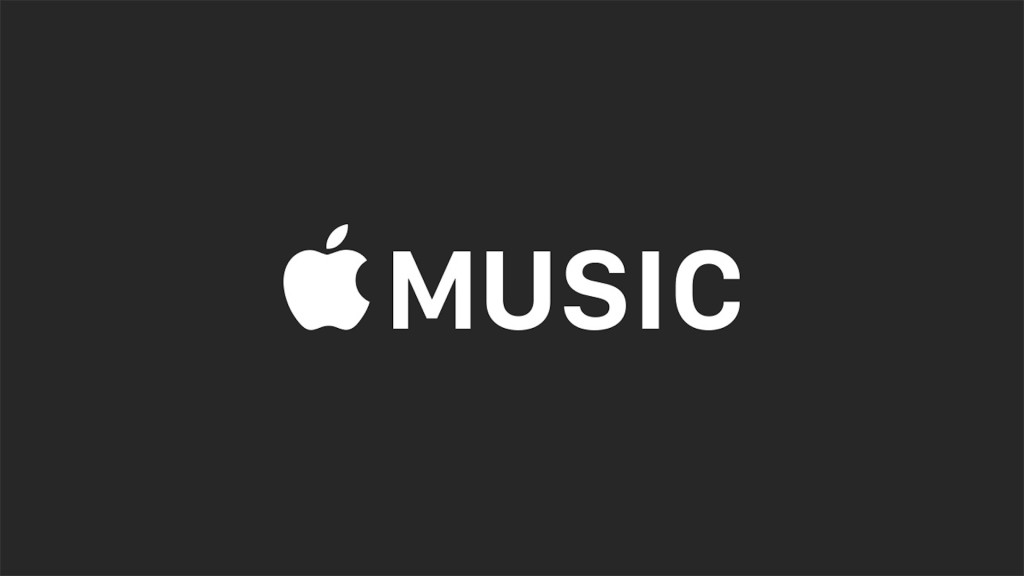 How to activate Dolby Atmos on Apple Music?
The Dolby Atmos format is available on iOS 14.6, tvOS 14.6, iPadOS 14.6, and macOS 11.4. In theory, activation is automatic: if the song is compatible, it will be played in Dolby Atmos.
On iPhone, you can easily check if Dolby Atmos is enabled:
Go to Settings;
Go to Music;
Go to Dolby Amos.
Three settings are available: 'Automatic' (default), 'Always enabled' or 'No'. Note that it is also possible to download your playlists in Dolby Atmos (spoiler: they will take up more space). If you have already downloaded them in stereo, you will have to do it again to take advantage of the most advanced format.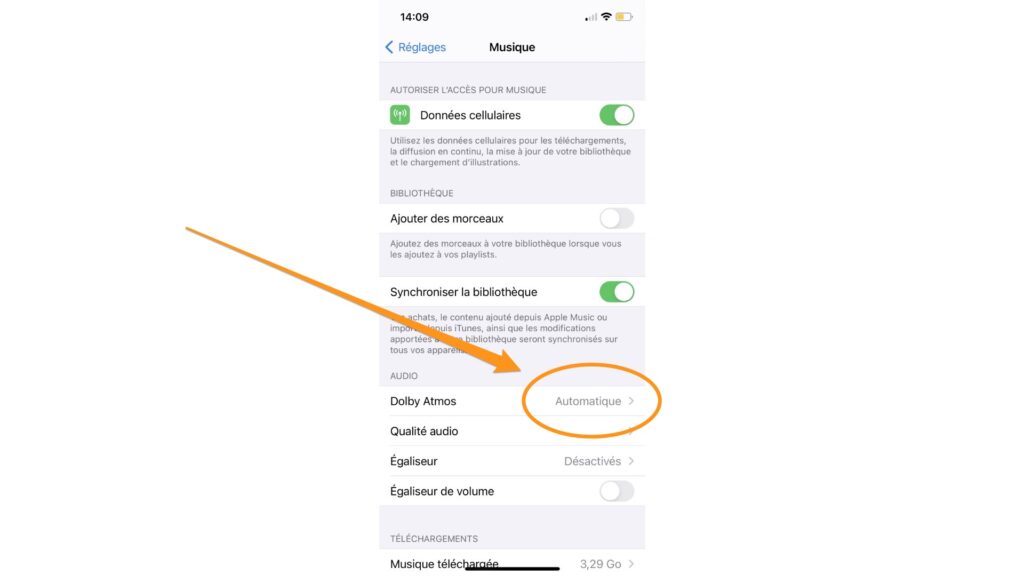 What do I need to enjoy Dolby Atmos on Apple Music?
Apple obviously puts forward its own products for Dolby Atmos. Are compatible without any worries: AirPods Pro and AirPods headphones, AirPods Max headphones, certain Beats accessories (BeatsX, Beats Solo3 Wireless, Beats Studio3, Powerbeats3 Wireless, Beats Flex, Powerbeats Pro and Beats Solo Pro) or even speakers newer iPhones / iPads / MacBooks. HomePod and HomePod mini are compatible, but only when playing from an Apple TV 4K.
With Apple TV 4K, Dolby Atmos will also work if you have a compatible amplifier or soundbar. We were able to test with the Sonos Arc to verify this. On the other hand, reading from an iPhone with AirPlay technology does not allow Dolby Atmos.
If you own a non-Apple headset or pair of headphones, you will still have access to Dolby Atmos. But it will be necessary to force the format in the parameters ('Always activated' option). We could verify this with Bose QC Earbuds: by choosing 'Automatic', Dolby Atmos does not work.
Are all songs compatible with Dolby Atmos?
No Alas. But Apple has foreseen the blow by offering playlists articulated around a genre (Hits, Hip-hop, Pop, Country, Classical music, Rock or Jazz). A few thousand titles are available today, knowing that the list should grow larger as artists update their catalog. We have already detected some oddities: for example, Linkin Park's debut album – Hybrid Theory – is available in Atmos. But not the others, although more recent. They should eventually be, Apple told Numerama.
A Dolby Atmos logo is present when the song or album can be played in Dolby Atmos. It also appears below the playback bar, on the dedicated screen, when the song is actually played in Dolby Atmos.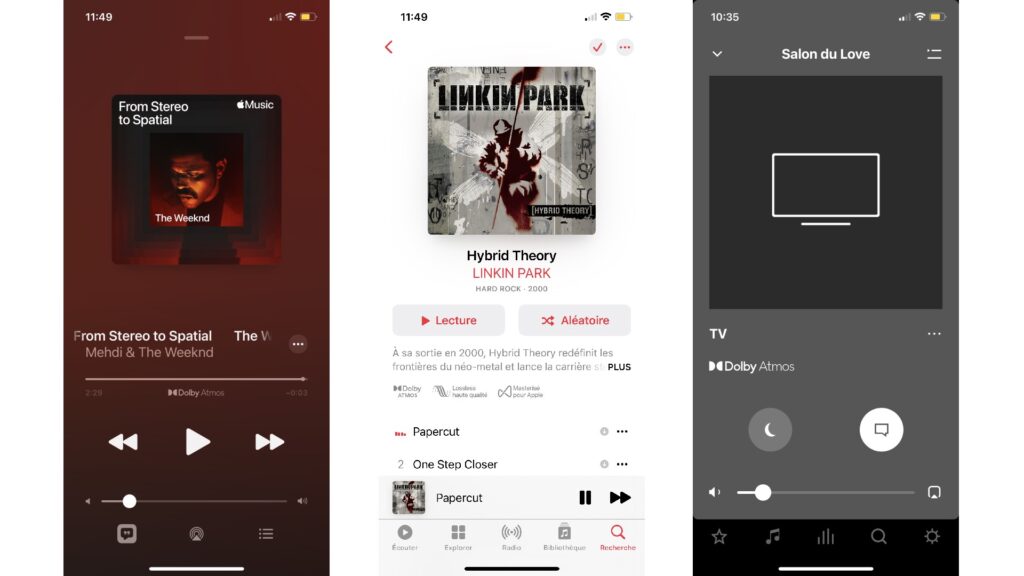 What does Dolby Atmos really bring?
Is Dolby Atmos Worth It? Yes, definitely. And you will only need a few seconds to be convinced. Dolby Atmos is one of those technologies with very subjective contributions: the benefits are far from essential but we regret them when we can no longer enjoy them. We advise you to test the hits of The Weeknd as a priority, which seem to be thought of as showcases for Dolby Atmos. In this format, we win on all fronts: a more detailed breakdown of information, detail do you want some, more nuanced bass, a game on the amplification guaranteeing a sometimes total rediscovery, a ventilation that allows a scale unsuspected, voices that stand out even better, a less directive rendering when there are 3D objects (those little notes that we had never heard before…). It is really impressive.
On the best songs, there is therefore a before and an after. Obviously, some differences are more subtle, and it will take a little more to listen to this little contribution that could change everything. For example, the famous Linkin Park album in Dolby Atmos is nothing transcendent, while we still do not recover from the acoustic violence of Black Skinhead – signed Kanye West. Here, one would think the artist levitating on the accompanying soundtrack, for an unparalleled feeling of depth. It is truly an experience apart, which has the good idea of ​​being … free (let's say rather at no extra cost).
Should you invest in AirPods Max to get the most out of Apple Music in Dolby Atmos? Apple will say yes. We'd rather be tempted to say maybe, if the budget allows. The helmet, due to its design, will necessarily go even further in detail, justifying its price a little more. But we have to admit that the AirPods Pro are already doing a very good job. To the point of affirming: Apple has undoubtedly succeeded too much with its high-end headphones to mark a real break with its overpriced headphones. Good for our bank account.
Three songs that allow you to fully appreciate Dolby Atmos :
Blinding Lights par The Weeknd ;
Black Skinhead par Kanye West ;
Folsom Prison Blues by Johnny Cash.
The continuation in video