William Bubba Hodge stole a live alligator and tortured the animal in the worst possible way.
Daytona Beach – What's gotten into this man? William "Bubba" Hodge (32) stole a living alligator from a mini golf course in the US state of Florida and played it Tier ill with.
As Complex magazine writes, the 32-year-old hit the repil, finally grabbed its tail and began swinging it around and thundering against an awning.
The man's plan was to toss the alligator on the roof of a shop.
Fortunately, however, he was watched by police officers who stopped the American's wild life and arrested him.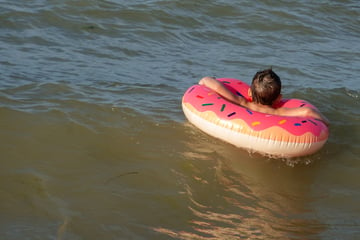 From around the world
Panic on the beach: toddler floats out to sea on rubber ring!
Hodge did not have to explain why he tormented the reptile. He wanted to "teach the animal a lesson," he said.
The alligator survived the crazy action and was returned to Congo River Golf.
In contrast, the 32-year-old was taken to a public safety department. Here, too, he became conspicuous and tried to flood his cell by, among other things, clogging the floor drain with toilet paper. He is also said to have threatened to flood the building.
William Hodge is now facing a series of charges of cruelty to animals, unarmed break-ins and criminal mischief.
The man remained in custody in Vulusia County Jail. The bail for his release was set at $ 4,500.