After Ferrari failed to compete for the wins for two seasons, the team restructured its technical department. That has had an effect: Charles Leclerc and Carlos Sainz have a super fast car. But with a strategic department that keeps relapsing into old mistakes, the Italian team won't win many races.
"It was all very calm with us, the team told us exactly what to do." Max Verstappen praises his Red Bull team after the chaotic Grand Prix in Monaco. Winner Sergio Pérez expressed himself in similar terms.
The decisive way in which the World Cup leader's team made decisions on Sunday, sending the drivers through the race and thus taking another victory, is in stark contrast to what went wrong on the Ferrari pit wall.
They were all minor miscalculations, combined with bad luck, but it was too much. To start with, Ferrari underestimated how fast Perez would be after the Mexican switched to intermediates.
The pit wall then reacted drowsy and brought in Leclerc a lap too late. As a result, he saw a nicely built up lead of seven seconds and with that the victory go up in smoke.
Williams drivers are troubling Ferrari
Sainz knew better that the step from wet tires to slicks was possible and basically made that pit stop at the right time. Only, curiously enough, Ferrari decided to bring in Leclerc again on the same lap. When they realized he was too close, the Monegask was already driving into the pit lane with Sainz in front of him. The double pit stop became too tight and the home favorite lost precious seconds again.
These could be added to the time Leclerc had already lost before being stuck behind straggler Alexander Albon for a lap. The British Thai skillfully overlooked all the blue flags and lights that were waved and blinked in front of him.
To make matters worse, Sainz got stuck behind another Williams, Nicholas Latifi's, on the finish. It wasn't much, but in half a lap a much faster car quickly loses a second. That gave Pérez just a little more margin to move to slicks after his pit stop.
Just blocking was enough
Red Bull then only had to react with Verstappen and brought the World Cup leader so narrowly in front of his major competitor, who in turn had lost some crucial time behind Latifi shortly before. He saw Verstappen coming out of the pit lane just ahead of him. The Dutchman had to block Leclerc, but that was enough.
At Red Bull it all just fit and at Ferrari it just didn't fit. Certainly without the unconscious interference of the Williams drivers, it could all have turned out differently, but it didn't. And that can no longer be a coincidence.
Leclerc in the Monaco hairpin.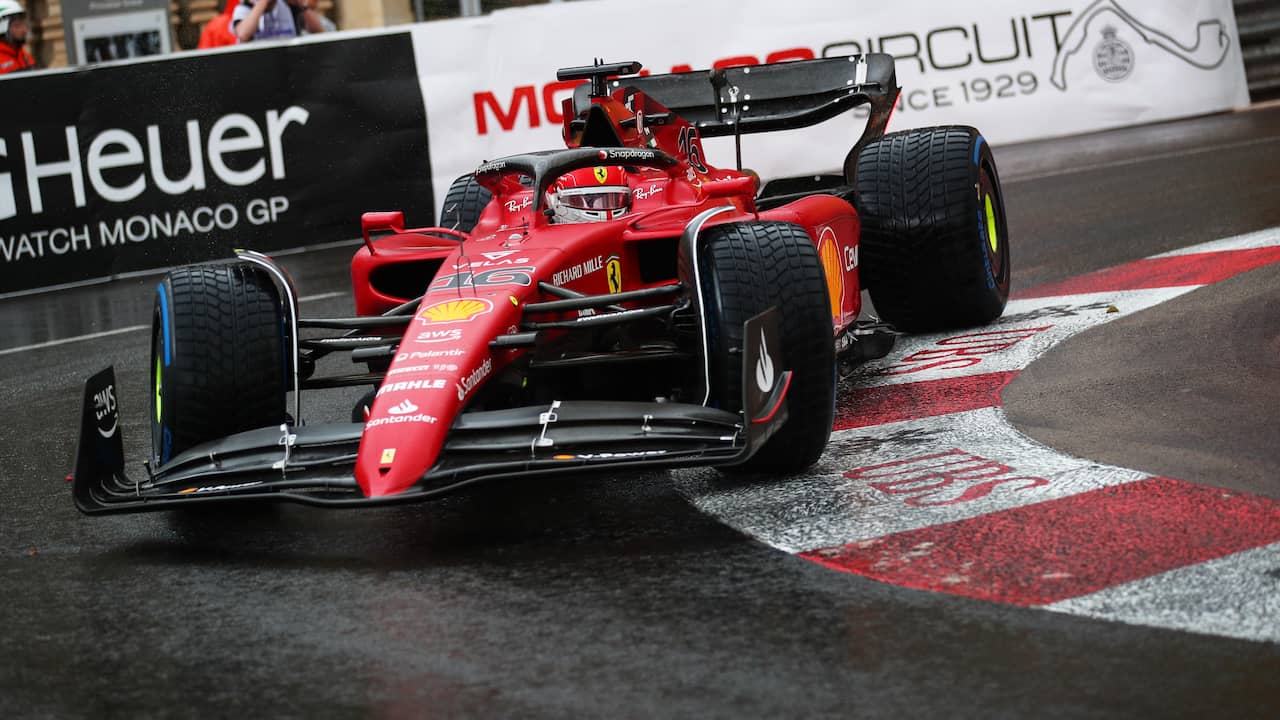 Ferrari rarely takes the initiative
It was a lack of overview, daring and communication that Ferrari showed in previous seasons with a car that was fast enough to win. And it is also roughly the same people who are in charge in that area.
Spanish strategy director Iñaki Rueda, for example, has been with the team since 2014. And Leclerc's sometimes panicky race engineer, Rueda's compatriot Xavier Marcos Padros, has been around since 2019. Italian chaos at Ferrari is often scorned, but the team's leadership is an international group.
In 2017 and 2018, for example, things regularly went wrong in the battle with Mercedes and the team was outclassed by Lewis Hamilton. He often saw how his team deployed adjutant Valtteri Bottas strategically, to which Ferrari did not react decisively. Red Bull showed last season that Mercedes can also be forced to make strategic mistakes. That only requires initiative and Ferrari almost never takes that.
According to Binotto, the team is not ready yet
The team has a car again after two years of struggle with which it can compete for the victories, but according to team boss Mattia Binotto, his team as a whole is not ready yet. It saw the battle with McLaren for third place in the championship last season as a nice warm-up, but fighting with the shrewd Red Bull is another story.
For the time being, Leclerc is the king of Saturday, but it has already gone wrong four races in a row on Sunday. If this continues, Verstappen can hardly miss the second world title and Pérez will be signed as second.
So Ferrari has to change things up a bit if the team is to stay in the title race this season. But it is also important for the future of Leclerc and Sainz that the team from Maranello finally says goodbye to this weakness. For that, the broom will have to go through the strategic department.
The bad thing for the Scuderia is that Sunday's chaos on a dry track would never have happened. But when the heavens broke open shortly before the start, the question was not whether, but how Ferrari would hand over the victory. Such a reputation is unworthy of a top team of this stature.