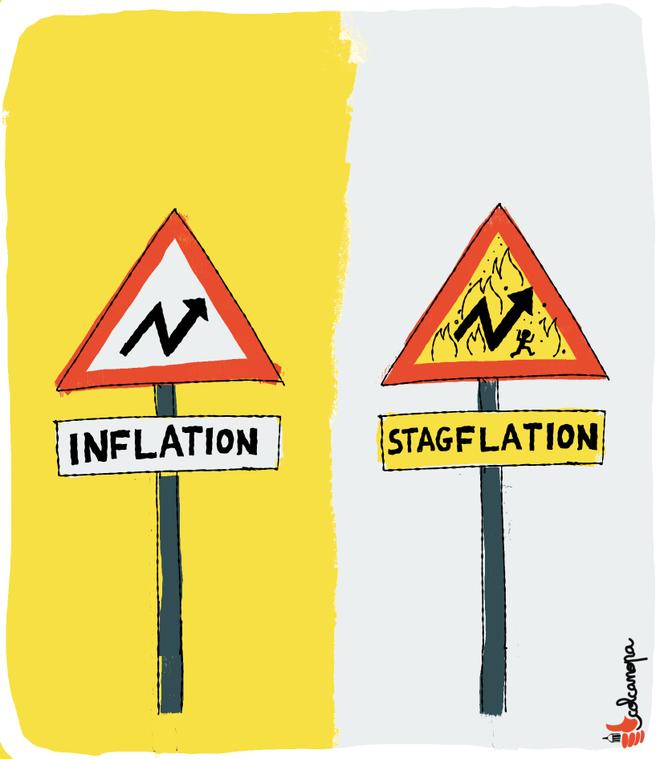 The Eurozone now shows many signs of stagflation. This portmanteau word, which designates economic stagnation during a period of high inflation, has no official definition, but the current situation looks more and more like it. In May, inflation in the countries of the European single currency reached 8.1% over one year, according to data published Tuesday, May 31 by Eurostat. Unheard of since the creation of the euro. During the last inflationary surge, in 2008, the price index rose to 4%.
Read also:
Article reserved for our subscribers

Energy shock, slow growth: in Europe, the specter of stagflation
At the same time, growth has slowed sharply. It was 0.3% in the first quarter in the euro zone, a period which included only five weeks of the war in Ukraine, which began on February 24. In France, over the same period, it was even negative, at -0.2%, according to the new estimate from the National Institute of Statistics and Economic Studies published on Tuesday. Since then, in April and May, economic indicators throughout the region have been trending downwards, without collapsing. Strangled by the sudden rise in the cost of living, households are particularly affected, while industry seems to be holding up better.
"The juxtaposition of high inflation and a sluggish gross domestic product – France has joined Italy in negative territory – revives fears of stagflation"underlines Gilles Moëc, chief economist at Axa. "The war in Ukraine and China's zero Covid strategy are creating an unprecedented inflation peak and growth trough in the euro zone"adds Ludovic Subran, chief economist at Allianz.
France, protected by the tariff shield on electricity and gas prices, is the second least affected country (5.8%)
The magnitude, unprecedented since the 1980s, of this inflation shock was detailed on Tuesday by Eurostat. Six of the nineteen countries of the euro zone are now recording a rise in prices which exceeded 10% in May (the Netherlands, Greece, Slovakia, as well as the three Baltic States). In Estonia, it is even 20%. The larger, less volatile economies are following the same trend. Thus Germany (8.7%), Belgium (9.9%), Spain (8.5%) and Italy (7.3%). France, protected by the tariff shield on electricity and gas prices, is the second least affected country (5.8%).
Disrupted supply chains
Energy, the cost of which has soared by 39% in one year in the euro zone, continues to be the main explanation. But, gradually, the phenomenon is spreading throughout the economy. Food prices rose by 7.5%. "Core" inflation (excluding energy, food, alcohol and tobacco) also continued to rise, at 3.8% in May against 3.5% the previous month and 2.3% in January.
You have 51.09% of this article left to read. The following is for subscribers only.