Every year the government seizes cars for many reasons. These, and old service vehicles, are then sold by the Ministry of Finance. Although many cars are not really worth seeing, gems sometimes turn up in the showroom of Domeinen Roerende Zaken.
This time there is a striking car for sale for the Netherlands: a Jeep Grand Cherokee SRT. You can bid on the car via the government website. If you bid the highest amount, you can pick up the car. This amount is not what you ultimately have to pay for your fresh car. On top of your bid there is an additional 15 percent 'premium'.
Jeep Grand Cherokee SRT
Autovisie drove the Jeep Grand Cherokee SRT in 2007. "The average consumption proves that you produce your own hole in the ozone layer," we wrote at the time.
"At the start of the sprint, the Jeep moves so mercilessly from its place that it looks like it jumps away, without even an inch of wheel spin. The fact that you produce your own hole in the ozone layer during this type of campaign is proven by the average consumption during the measurement sessions: 1 in 3. But know that in daily practice you easily score better than the 1 in 6.3 that the factory claims. "
A heavyweight
"Nice of course, such an all-consuming acceleration, but it is nice if the Jeep Grand Cherokee SRT weighing more than 2100 kilos also comes to a decent stop, preferably more than once. Well, I can be brief about it: it brakes exemplary. A braking distance from 100 kilometers per hour in 35.9 meters – and that several times – is simply very good."
"But there's also something that's not so great about the Grand Cherokee SRT. For example, his control simply does not match that enormous speed potential. Apart from the fact that this car is simply not made to be dragged through a corner at a serious pace (too heavy, and the rigid rear axle doesn't really help either), the indirect steering doesn't make it easy."
The Jeep Grand Cherokee SRT at the Dutch government
The Dutch government offers the American mastodon. The Jeep Grand Cherokee SRT is from 2006 and has 147,334 kilometers on the clock.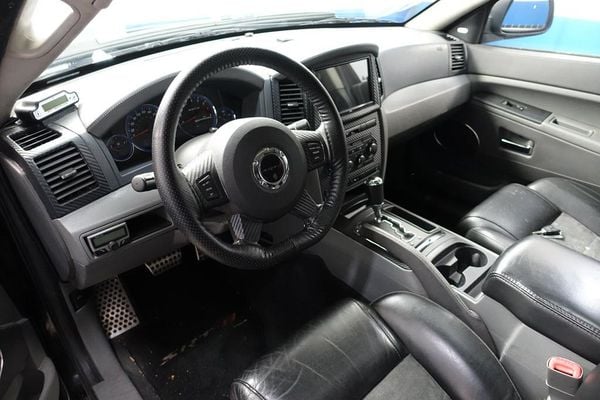 The advertisement states the following: "engine has a technical upgrade and also a different exhaust system". Perhaps the 6.1-liter V8 produces more power than the standard 426 hp.
Seen a mistake? Mail us. We are grateful to you.
News


16 apr 2022,

You want the used car: Mercedes CLS, 'an enrichment of the streetscape'

Occasions


12 apr 2022,

You want this youngtimer: BMW X5 4.6iS with Alpina V8

Classics


9 apr 2022,

Do you want this classic: Maserati Bora as a daily driver?

Occasions


4 apr 2022,

The Dutch government offers Mercedes-Benz S 500 Carlsson

Occasions


1 apr 2022,

Dutch government offers (again) an Audi RS 6 with V10

Occasions


30 mrt 2022,

The Dutch government sells Mercedes-Benz A 45 AMG Edition 1

Occasions


29 mrt 2022,

You want this occasion: Lancia Flavia, the editorial favorite from the 60s

Used cars of up to €10,000


10 mrt 2022,

You want this occasion: Citroën Xantia V6, 'false modesty'