Walking slowly and looking up at the sky as a sign of gratitude for a rebirth. This is how José Carpio, 56, was seen who for a period of six years suffered from a disease that led him to the waiting list for an organ transplant at the hospital José Carrasco Arteaga of the Ecuadorian Institute of Social Security (IESS).
He is the most recent patient to be operated on during this first semester of 2023 in this health home. There are 27 people who, in his words, "were born again."
This is corroborated by Cristian González, manager of this health home, who indicated that his objective strategic is to measure the continuous improvement of hospital processes to strengthen the care received by patients.
Don Pepito, as his colleagues call him, underwent surgery on April 7, 2023. The operation lasted about eight hours.
"My little mother, may she rest in peace, fdied due to the lack of these donation programs and it was just a Good Friday, like the day of my surgery. I don't know if it was a coincidence or not, but I am grateful, because I came back to life," the patient commented.
A chart of diabetes hypertension and fatty liver afflicted him for six years until he couldn't resist and the seizures began.
He experienced a difficult situation, especially due to the lack of donors, even for not having compatibility with the donated organs, but a call from your family doctor and a donor, made their intervention possible.
This teacher confesses from the heart that "the transplant is a gift." Although he still has to complete his recovery for at least six months to return to his work activities, he assured that he can now continue his normal life.
"Although I already want to go and give my teachings in the school where I work, I think that God has given me this teaching of life that I should take advantage of and always be grateful for", pointed out who is one of the eight liver transplant patients.
protagonists
His case is not far from the suffering that many patients have had to go through, but there are protagonists of all ages. Luis Sanchez, 31 years old, is another of the people who underwent surgery this yearafter spending 13 years on the waiting list.
He said that since he was 18 years old he had complications with his kidney and had to undergo hemodialysis. FIt was a cadaveric donor who gave him the opportunity to continue and improve his quality of life.
"Being on a dialysis machine for about four hours three times a week was "an ordeal", both for me and for my mother who has accompanied me throughout the process," he said.
With that spirit of survival, Sánchez is convinced that cementing something in his life again will be a less complicated process. His case is part of the 15 kidney transplant patients.
support and thanks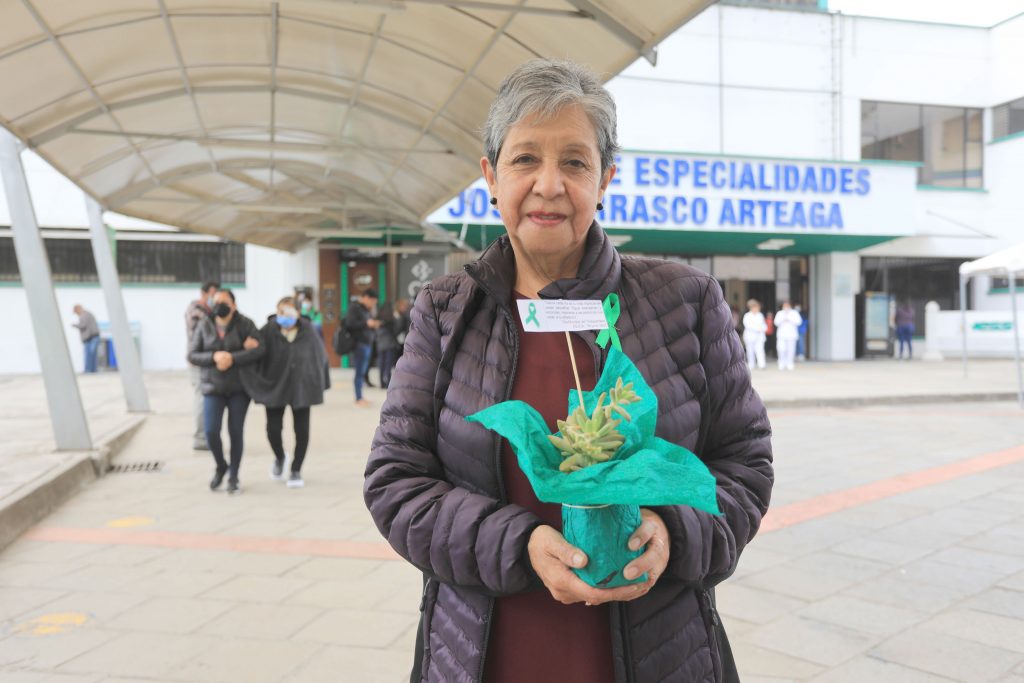 LAfter turning 13 years of being the first patient to be operated on in Cuenca and the second in Ecuador, Inés Naula Rodríguez, today accompanies her friends who are part of the transplant program.
"Yo soI come to accompany you, because I know how this process is and I am always thankful for the second opportunity", he commented.
She is now in good health and is, as she indicated, the clear example ofand that "without donors there are no transplants". That's why he thanks his donor, Although he did not know him, he always gives him a prayer with a "God pay him".
Now feel the commitment continue promoting organ donation because it is a gift of life. (REM) (I)
donation program
The availability of organs for transplants continues to be a very difficult subject since it is difficult to get donors, due to different situations such as religious and cultural deeply rooted in the population.
This is how Patricio Martínez, coordinator of the Organ Transplant Unit of the IESS hospital, defines it. He pointed out that, despite this, there is a multidisciplinary team in charge of maintaining the program and the patients with the necessary care.
It is already 13 years since the program was born and, as of 2019, it was potentiated to provide quality of life to patients.
Due to program policies, 24-year-old Johanna Encalada was not mentioned the name of her donor. Since she was 15 years old, she had health problems, with her intervention she has managed to rejoin, not only her working life but also her studies.
She is part of the 2.58 percent of people with living donor transplants nationwide. Although there are 27 transplants in Azuay, from January to May 2023, 233 organ transplants were registered throughout the country.
According to figures from the National Institute for Organ, Tissue and Cell Donation and Transplantation, 40.77 percent of the interventions are corneal transplants, until now the surgery that many of the patients require the most. (YO)
Data
8 liver transplants have been achieved within the program at the José Carrasco Arteaga Hospital of the IESS.
1 multi-organ transplant is part of the 27 transplants in total. This refers to various organs.
3 are the cornea transplants that have been performed in Cuenca, despite being the one with the highest incidence nationwide.