(Motorsport-Total.com) – Before the Azerbaijan Grand Prix in Baku (Formula 1 2021 live in the ticker), Sebastian Vettel declared that it was unlikely that he would one day end his Formula 1 career in the same way as his long-time teammate and Friend Kimi Raikkonen. With the move from the top Ferrari team to the backbencher Alfa Romeo, he has virtually closed the circle and lets his career end where he started it, with old, trusted friends such as team manager Beat Zehnder and physiotherapist Josef Leberer.
Sebastian Vettel is not yet thinking specifically about retiring from Formula 1
Zoom
"I can only speak for myself," says Vettel, asked by 'Motorsport-Total.com' on the topic (which for him is sure to be a few years in the future). "For me, the goal is very clear to win races. I did that before and it felt good, so I want to do it again."
At Aston Martin, at least at the moment, he has no chance of winning. However, the team would like to increase from currently 535 to 800 employees, so that it could become a serious contender for victories and maybe even world titles in the future. The big question is whether that will happen quickly enough for Vettel (who will turn 34 on July 3rd).
Because there are examples of great athletes who enjoy the last few years of their careers out of love for sport, even though they have already passed their zenith. Raikkonen is such an example, as is tennis legend Roger Federer, who won 16 Grand Slam titles between 2003 and 2010, but only three since Wimbledon 2012 and none since January 2018.
Vettel: Is he going back to the Faenza team?
The fact that Vettel closes the loop after his Aston Martin contract expires and returns to AlphaTauri, the team with which he won his first Grand Prix at the "Miracle of Monza" in 2008 (at that time under the name Toro Rosso), is unlikely. Despite old companions like Helmut Marko or Franz Tost.
"We all love this sport, otherwise we would not be in this position. That connects us all," says Vettel. "But individual motivations can be different. Why you carry on in a later phase of your career may be different for everyone. But I can only speak for myself, and it's all about winning. That gives me the ultimate kick."
---
Marc Surer: Aston Martin "on the right track"
"At the time, I also asked myself whether he had any motivation problems," says Marc Surer of Sebastian Vettel's race in Monaco. More Formula 1 videos
"Of course I love driving, whether I win or not. I don't think it will ever be lost. But I've always loved the competitive element of fighting the others on the track and finding out who is on day X." the better. Or to overcome obstacles together with the team. There is more than one reason. "
The Federer comparison thrown in by 'Motorsport-Total.com' – the Swiss is now 39 years old and still plays tennis at a high, if no longer at the very highest level – Vettel considers not permissible, because: "In Formula 1 there are only 20 cockpits. If you are no longer in it wholeheartedly, you should stop. "
Vettel does not want to take any space away from the offspring
"The boys," says Vettel, "should get their chance at some point. In tennis, one could argue, you don't take a seat away from anyone. That is something completely different. In racing, there are only 20 cockpits, and there it can be that you take a seat away from someone. But in principle, of course, everyone can do what they want. "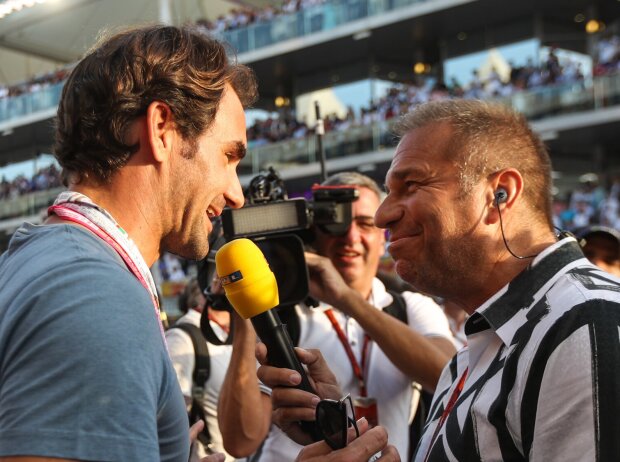 © Motorsport Images
Roger Federer will be interviewed by Kai Ebel (RTL) at the 2016 World Cup final in Abu Dhabi Zoom
A race like Monaco still fills him with satisfaction, emphasizes Vettel: "Certainly more than a sixth or seventh or tenth place. But in the end the goal for me is always to win the race. Even if the chances are slim "There's a small chance in every race."
"On the other hand, I am also realistic and of course I know that we are not among the favorites at the moment because we do not have the fastest package. But you can also take pleasure in other things: from working with the team, from trying to find one To take a step forward. And I think we managed to do that a bit, "says Vettel.
"We haven't left a stone unturned so far, we had to catch up a lot and learn about the approach, and that gives me pleasure too. Then to get a good result is a great opportunity to give something back to the guys in the team for their support. But Of course it's nice for you too, because in the end, as I said, it's about results. "