The eye of the world is fleeting, constantly turning its gaze to new heroes. Now Volodymyr Zelensky is on our minds, president of Ukraine who wages war with language and image from his hiding place. He sends vital signs and cries for help through all channels and cameras that he can operate.
Canadian filmmaker Daniel Roher turned his camera to the other man who took on and nearly died against the Russian regime: Aleksey Navalny, who was running against Vladimir Putin in the 2018 presidential election. He is arrested and released, poisoned and brought back to life. awakened. The world witnessed his arrest in early 2021, when he once again set foot on Russian soil. Since then, he has been in a penal camp, far out of sight, and threatens to disappear from view due to the violence of war.
Also read this interview with Roher: Navalny in conversation with his poisoner

Navalny is simply called the one and a half hour documentary about him, on Thursday evening the VPRO brought him on television. It's a thriller so absurd and insane, it must have happened. The film starts in 2020, the opposition leader has just been released from a German hospital, where he was in a coma. He had become unwell on a flight from Siberia to Moscow, fellow passengers filmed him moaning and writhing in his plane seat. He turns out to be poisoned with novichok. Worse than his near-death, Navalny finds the cure. Murder can be an excellent way to solve problems, he says dryly. "But if you want to get rid of your enemy, just shoot him." But novichok, Putins signature poison? Then, he seems to say, you don't even have to guess who the perpetrator is.
And yet that's exactly what Navalny does in the movie, figuring out whose hands have blood on them. Who, when, where, how exactly? Why is a question to which he already knows the answer. The detective work is done by a nerdy Bulgarian who lives and works in Vienna for the research collective Bellingcat. He trusts data, not people. He discovers where novichok is made – in a plant for nutritious sports drinks. He finds out who also happened to be flying to Siberia in wake of Navalny. He runs all the data through the online centrifuge and then five suspected perpetrators roll out. With name, nickname, function, photo, aliases, everything.
Calling under pseudonym
And those five men are going to call Navalny. Before the cameras, of course. Two tactics. One: call and say, "Hey, it's Navalny, you know, the Navalny you wanted to poison." And tactic two, a more deadly approach, it turns out: calling under a pseudonym and extracting details about the attack from the called scientist, supposedly on behalf of the Secret Service. The loose-lipped scientist has never been heard from again since this phone call.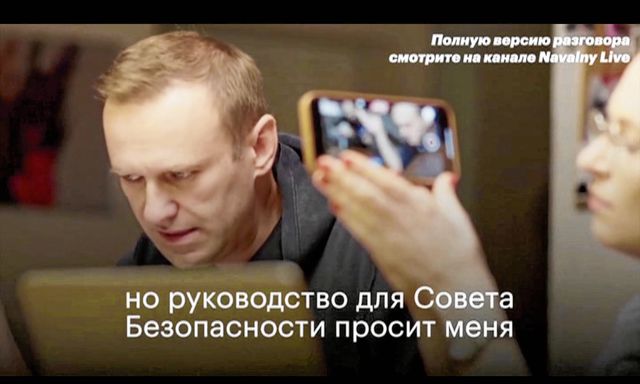 Read also Russian spy confesses to attempted murder during a phone call with Navalny

Footage is Navalny's artillery and with the confession calls he plans a mass attack via TikTok, Facebook, YouTube, Twitter, VKontakte. His 19-year-old daughter Daria uses the phone to make the promotional video that goes online with the caption: "When you find out who poisoned you." And then, on December 17, 2020, he throws everything online. Within seven hours, 7.7 million people have seen the unmasking of his killers.
We already knew the ending of the thriller. Navalny is arrested. In the last scene, he and his wife Yulia are on a plane to Moscow. The whole box is on stilts. Passengers ask him if he feels like a hero. "No, a Russian citizen." What will it be like to land in Moscow again? "Cold, minus 23 degrees." Whether he is afraid. No he is not.