A 64-year-old patient who went to the hospital to complain of back pain and fever died after doctors withdrew a 7.8-inch blood clot bronchial of his lungs. Although it was not the procedure that killed him, he was suffering from breathing difficulties and low blood pressure and was coughing up blood, according to the stories of his doctors published in BMJ Case Reports.
He was placed in the NHS Trust ICU at Imperial College Healthcare in London, where he was undergoing sepsis treatment and was on a ventilator. One CT scan revealed lesions in the brain and another a pulmonary edema. He was also suffering from a serious staph infection.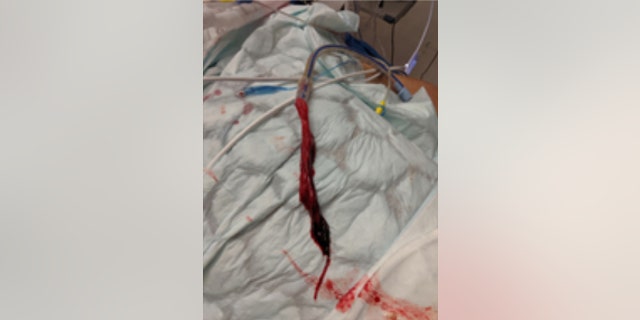 A PAPA PROHIBITED FROM POWER LOLLIPOPS AFTER A 5-YEAR SON NEAR TO BE PUNCHED OF DEATH
After starting to cough blood, the doctors discovered by bronchoscopy that he had a "big clot of pale blood" stuck in his breathing tube and had repeatedly tried to remove it by suction, without success.
"Due to the late hour of the night, the resources needed for a rigid bronchoscopy were not available," writes his doctor in the case report. "After checking a grade I view of the epiglottis, the patient was paralyzed, sedated, and sucked up for the purpose of removing the ETT and contiguous clot."
LUNG GRAFT ASSOCIATED WITH THE VAPAGE CARRIED OUT IN DETROIT HOSPITAL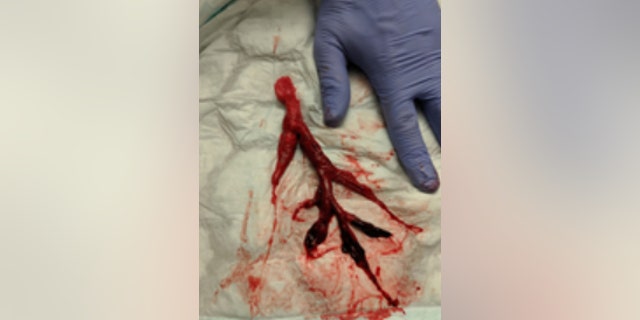 The withdrawal was a success and his breathing improved immediately, but he could not recover from his other ailments, including bowel cancer. His family agreed to disable the maintenance of life and he died soon after.
CLICK HERE TO GET THE FOX NEWS APP
The photos of the procedure show the blood clot attached to the end of the endotracheal tube once removed from the patient's chest. Another shows that the clot was formed in a bronchial tube perfectly molded and had a length greater than that of the finger of his doctor.