(MST/Speedmaniacs.de) – After the people working on the Montana DLC for American Truck Simulator recently published a detailed gameplay video, which again raised the question of when the expansion will be released, this question has now been officially answered. As announced by SCS Software, the Montana DLC will be released next week on Thursday, August 4th, 2022 – click here to watch the release date video.
The Montana DLC is coming soon
Zoom
This ends the waiting period of almost 9 months since the add-on was announced in November 2021, which has since been bridged with lots of information and screenshots. American Truck Simulator owners can look forward to new cities (Kalispell, Thompson Falls, Missoula, Butte, Helenea Bozeman, Great Falls, Havre, Lewiston, Laurel, Billings, Glasgow, Sidney, Glendive, Miles City), added transportation options, and a stunning Set landscape in "Big Sky Country".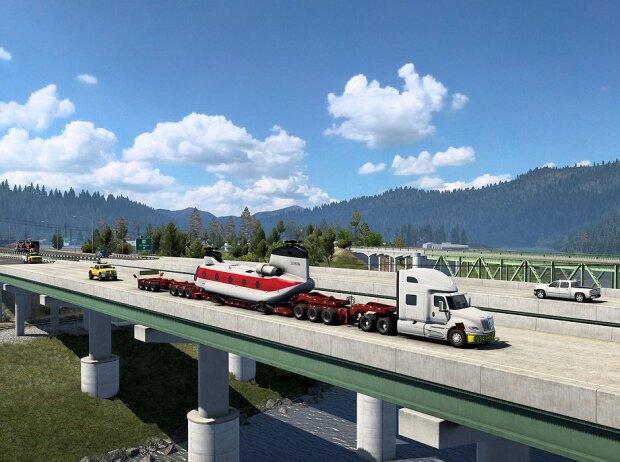 © SCS Software
Heavy-duty transports pose a special challenge Zoom
Along with the release of the expansion, it will also introduce brand new special transport missions. An additional challenge and special trucking experience awaits the truckers on a total of four routes (from Havre to Lewiston, Thompson Falls to Kalispell, Laurel to Glendive and Butte to Bozeman).
There is also good news about the transportation system that runs through Yellowstone National Park. "We are pleased to announce that following the addition of US-14 with update V1.45 in the Montana DLC, we will be upgrading the US-191 road which will run from Wyoming through West Yellowstone to Bozeman and with it opens up the possibility of one day fully mapping the entire Yellowstone area in our game."