In the early days of Putin's war, Europe astonished itself. In unprecedented harmony, decisions were made in a few days that would normally take years of diplomatic struggle.
The war has now gone from a lightning strike to a grueling position war. Now that both sides are gearing up for a longer-term conflict, Europe is also regaining its perspective on the longer term. Europe is switching from lightning-fast emergency aid to the big questions for the future. At the same time, the much-vaunted concord shows its first crack. The war is also becoming a wear and tear for Brussels.
Minister of Foreign Affairs Wopke Hoekstra (CDA) pleaded Monday for more 'European clout' to protect the economy, democracy and European values. If even a pragmatist and ex-frugal from the north sees the war as an ideological conflict that also revolves around the future of Europe, then you can be sure that Putin's war will have far-reaching consequences for the EU.
Also read: Macron wants EU portal for countries like Ukraine

While Hoekstra still kept to the analysis, French President Emmanuel Macron, who likes to work as a think anchor, tried to color that future. He sought a solution for Ukraine in the European Parliament on Monday, thinking aloud. EU membership will take years, but Ukraine must be bound to the EU. So Macron devised a new 'European Political Community', intended for EU members, for countries that do not want to be an EU member and for countries that cannot (yet) become members.
It is a vague, but sympathetic thought exercise. It is evident that if Ukraine is fighting for European values, Europe will not be able to abandon the country that is fighting.
If Europe is engaged in a battle between democracy and autocracy, the war also increases pressure on the EU to finally bring in some of the Western Balkan countries, which have been in talks since 2003. It is no longer tenable from a geopolitical point of view to leave territory to the enemy.
The Hungarian resistance underlines that European politics is also always a matter of conflicting interests
Coming up with a new political club was not enough for Macron. The EU must become more independent, more effective and more democratic, he said, fueled by a brand new electoral mandate. And if necessary, the European treaties will be overhauled.
If the war demonstrates the importance of European clout, it is only logical to carry out a major overhaul of the European Union. A citizen consultation yielded almost fifty proposals for that renovation. Citizens who took part in the Conference on the Future of Europe argued, among other things, for the right of initiative for parliament and the establishment of transnational electoral lists so that you can also vote for a Member of the European Parliament from another country. The ideas are not new, but their time has come.
Another option to make the EU more democratic and more decisive is to abolish the veto on foreign policy decisions, as advocated last week by Italian Prime Minister Mario Draghi. Only a Europe that can decide quickly is credible in the eyes of its citizens and in the eyes of the world, he said.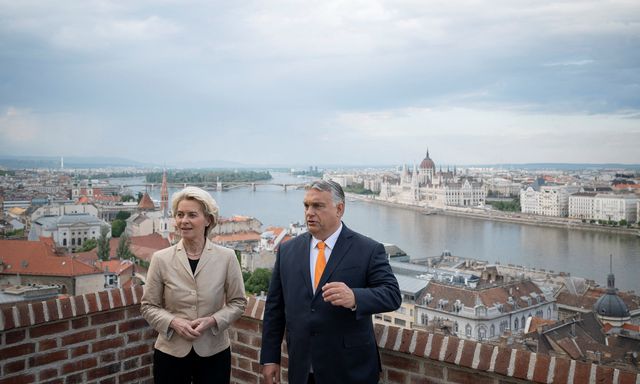 Also read: Orbán's threat of veto hangs over EU boycott of Russian oil

Budapest is demonstrating how problematic the veto is these days. Hungary (10 million out of 450 million EU citizens) has been holding a decision to stop imports of Russian oil for almost two weeks now. An embargo has direct consequences for its energy supply, for which it wants to be compensated. And Prime Minister Victor Orbán, who has also just been re-elected, likes to oppose and he maintains good ties with Moscow.
The day-long tug-of-war over oil would not be possible in Draghi's future. It is not so easy to abolish the veto: every country has a veto over that decision.
The Orban show is embarrassing, but you could know that unity gets trickier as more and more measures are taken against Russia and those measures become more drastic. The Hungarian resistance has one good side: it underlines that European politics is also always a matter of conflicting interests. That will be no different during the rebuilding of the European Union, which Draghi and Macron have in mind. The EU has to strike a balance between the legitimate interests of the Member States and the call for strength arising from the war.
Geopolitics editor Michel Kerres writes here every other week about the tilting world order.
A version of this article also appeared in the newspaper of May 13, 2022