Last Friday the China Suarez he took a plane with his mother and children Rufina, Magnolia and Amancio, to settle in Spain for a few months and shoot a new movie. Once he landed, he shared different postcards of the city of Madrid and published a cute photo of the little ones in the Main Square, one of the most iconic places in the Spanish capital.
On Friday morning, the actress on Ezeiza about to start his journey. "La China Suárez is traveling to Spain at this time. With his mother and the three children " wrote from his official account Twitter journalist Pampito, with a photo where you can see the actress from afar standing in line to dispatch their suitcases.
"My unconditional chicks" wrote the China Suarez in the caption you posted on Instagram. In the image you can see Rufina Cabré, Magnolia and Amancio Vicuña from the back, in the Main Square of the city of Madrid. The publication received more than 245 thousand "likes" and thousands of comments from its followers, congratulating the actress for taking her children with her to Spain.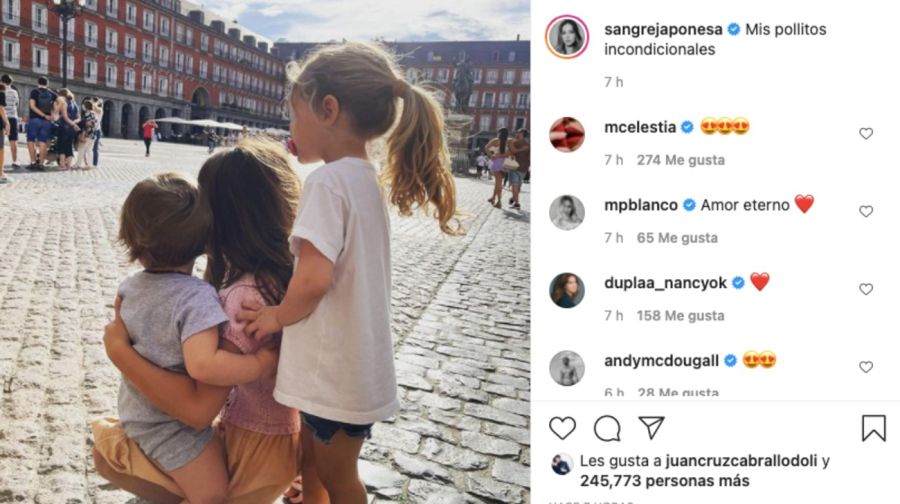 While the ex of Benjamín Vicuña I was traveling towards Europe, in the cycle of The Morning Angels, Angel de Brito exclusively interviewed Pampita. The driver of Pampita Online made a comment about the China Suarez and this generated anger on the part of the actress, which you decided to lock in Twitter to the official account of BLUE.
China Suárez left the country: they reveal when the reunion with Benjamín Vicuña will be
The China Suarez traveled this Friday morning to Spain where he will begin a new stage in his career away from Benjamín Vicuña. The 29-year-old actress will start shooting a movie with Álvaro Morte, "The professor" from La casa de papel, and he will settle in with Rufina, Magnolia and Amancio in the company of his mother, for a few months.
For the moment, Benjamin Vicuña will not travel to Madrid but it was defined that in October it will be part of the platinum awards, which will take place in that city. In this way, during that date the actor will travel for a few days to be close to his children and to be in contact with them while China continues with the filming.
FF