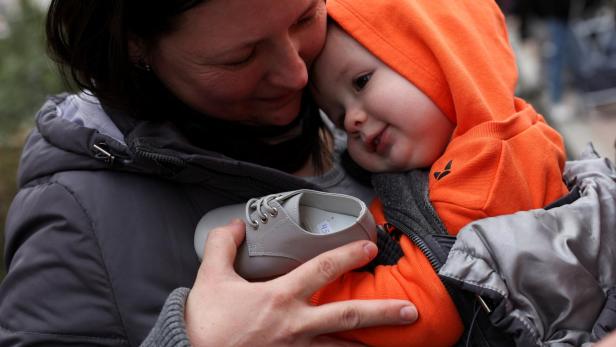 © REUTERS / VIOLET SANTOS MOURA
The director of Voices of Children, Olena Roswadowska, assumes that 16,000 children have already been deported to Russia.
Today, -55 minutes ago
"This isn't a vacation, we're trying to stay alive," explains four-year-old Hryhorij. And Eva (10) says: "Don't worry mom, it's thunder. I can already tell thunder from explosions." The non-governmental organization Voices of Children has collected such statements by Ukrainian children about the war in their country and documented them in a book. The NGO helps children and also collects information about war crimes against minors.
16,206 children were forcibly deported to Russia or to Moscow-occupied Ukrainian territory, explained the lawyer and expert at the Institute for Social Research in Kharkiv, Andriy Chernousov, in a press conference on Wednesday afternoon in Vienna. The US, EU and Ukraine missions to the OSCE have invited the Ukrainian NGO to Vienna to speak on the subject at the Organization for Security and Co-operation in Europe (OSCE).
According to Chernousov, he cites confirmed cases of deportation. In fact, this number could be much higher. Estimates speak of 700,000 children. More than 300 of them could be brought back to their parents.
Russian lessons, sexual violence
Children are "an easy target for Russian propaganda," adds Voices of Children director Olena Roswadowska. She and Chernousov report that Russia is trying to erase the identity of the kidnapped minors. The children get new birth certificates within a short time, which is why tracking is also difficult. Ukraine would also get Russian lessons, so-called "patriotic" lessons, and information on how to use weapons.
But the situation is of course also extremely difficult for the children who have remained in Ukraine. Millions of Ukrainian children live in wartime conditions, says Rosvadowska, whose organization offers practical as well as psychological help. 3,000 schools and kindergartens have been destroyed, 30 percent of the country has been mined. Some places are so bombed that it is unclear whether they can ever be made habitable again. More than 460 children died in the war and more than 900 were injured. There are 2,600 investigations into crimes against children. The Ukrainian Attorney General has proven more than 100 cases of sexual violence by Russians, twelve of them involving children.
The film "A House Made of Splinters" by Danish director Simon Lereng Wilmont, on which Roswadowska and Voices of Children co-founder and documentary filmmaker Asad Safarow also worked, also shows how children fare during the war. The documentary about children from a destroyed orphanage whose fate changes in an instant is nominated for this year's Oscar.
We would like to show a login here. Unfortunately, you did not give us your consent for this. If you want to view this, please agree to Piano Software Inc.
dear community,
With our new comment function, you can now post directly anywhere in the article. To do this, simply click on the speech bubble symbol at the bottom right of your screen. Or click hereto open the comments section.