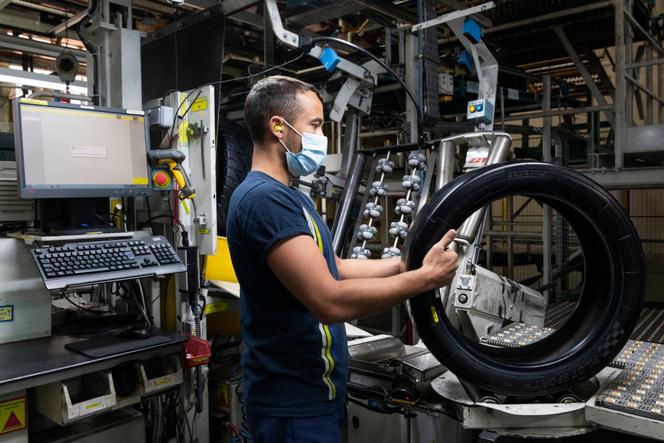 "You want a summary of the situation? Nothing like it has been seen since the end of World War II. It's chaos! An unspeakable bazaar! » Despite the favorable financial outlook that he must present on Friday, May 13, in Clermont-Ferrand, before the general meeting of shareholders, Florent Menegaux, the boss of Michelin, is in "permanent crisis".
Read also:
Article reserved for our subscribers

Michelin, EDF… Management in co-construction, a fashionable notion boosted by teleworking
The latest financial press release from the world leader in tires had already set the tone: "Operational disruptions and inflationary pressures have been exacerbated by the conflict in Ukraine and the resurgence of Covid-19 in China. » During a meeting with The worldFlorent Menegaux became more concrete. "We lack raw materials, semiconductors, there are not enough boats, those in the ports are blocked, we lack containers, we lack trucks, we lack truck drivers…" In short, we are on the verge of paralysis.
carbon black
"In normal times, the routine is two or three crisis cells activated per quarter. At the moment, there are about twenty of them permanently open. » With peaks of fifty in 2021. Latest episode, Sri Lanka. Weakened by the Covid-19 crisis, the country has no more foreign exchange reserves, the economy is on the verge of collapse, electricity only works intermittently, the capital is in the grip of riots, and the Michelin factories – the group is the first national exporter – are almost at a standstill, while its tire stocks are stuck.
Compared to normal, the supplier bill has soared by more than two points
With 123 production sites in 26 countries around the world, and some 200 components that go into tire composition, supply chains are Michelin's Achilles' heel. The disruption of supply is also placed at the very top of the risk scale. A few months ago, the tire giant considered that this threat had "a low probability of occurrence". The war in Ukraine turned the improbable into reality. From March 3, it took "stop production at some of the factories in Europe, for a few days". In question, carbon black, a component produced in Russia which usually transited through Ukraine. It now comes from China.
On March 15, Michelin decided to put its Russian plant in Davydovo on hold, which could no longer be supplied with semi-finished products from Poland and Romania. "Russia is only 2% of our activity"note M. Menegaux. "What concerns me are our 750 employees, whom we continue to pay thanks to the flow of stocks. » For the plant, a decision will be made by the end of the year. A sale is not excluded.
You have 47.55% of this article left to read. The following is for subscribers only.