Swing

Perfect surprise: Zug's Fabian Durrer wins the Obwalden and Nidwalden cantonal wrestling festival
Fabian Durrer triumphs at the Obwalden and Nidwalden cantonal wrestling festival in Kerns. In the final he beats Christian Zemp, the other surprise man of the day.
The Fest Summary
Video: Tele 1
Fabian Durrer celebrates his victory at the 117th Obwalden and Nidwalden Cantonal Wrestling Festival.
Image: Urs Flüeler / Keystone (Kerns, May 8, 2022)
The final ranking
The final course
Fabian Durrer wins the Obwalden and Nidwalden cantonal wrestling festival. The 22-year-old from Zug decides the final walk against the local non-wreath player Christian Zemp (Kerns) after 3 minutes and 48 seconds with short and pressing.
The Swiss Sven Schurtenberger and Andi Imhof, who won their sixth courses, also achieved a top place. Durrer won against Christian Odermatt in 5th gear and benefits from the fact that the competition in front of him does not win. For his part, Zemp was rewarded with a score of 8.75 after losing to Kilian von Weissenfluh. This gives the two a score of 47.75. The final ranking:
5. Gang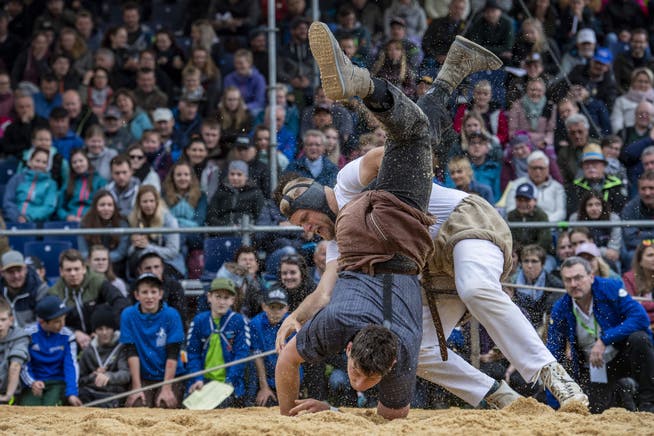 Christian Zemp's run comes to an end in 5th gear. The 17-year-old is shown the limits against Kilian von Weissenfluh. Von Weissenfluh dominated the action from the start and defeated him on the ground. Zemp had to compete twice in 5th gear. First against Christian Gerber, who got injured. That's why Kilian von Weissenfluh was later assigned to him – for him it was already sixth gear.
None of the top-ranked wrestlers can land a win. Jonas Burch, who is in second place, has to accept a challenge against Erich Fankhauser. The 3rd placed Marcoario (against Fritz Ramseier), Urs Doppmann (against Stefan Ettlin) and Marc Lustenberger (against Dominik Waser) can't get past a draw either. And non-wreath Roman Wanderer (3b) loses against Stephan Arnold.
Confederates Benji von Ah (against Roman Fellmann), Andi Imhof (against Alex Huber), Sven Schurtenberger (against Christian Bucher) and Reto Nötzli (against Niklaus Scherer) all managed to win.
The starting position could hardly be more open after five gears. It is not yet clear who will be in the final. The intermediate ranking should bring some clarity in a few moments.
Christian Zemp versus Kilian Weissenfluh
Video: Tele 1 / PilatusToday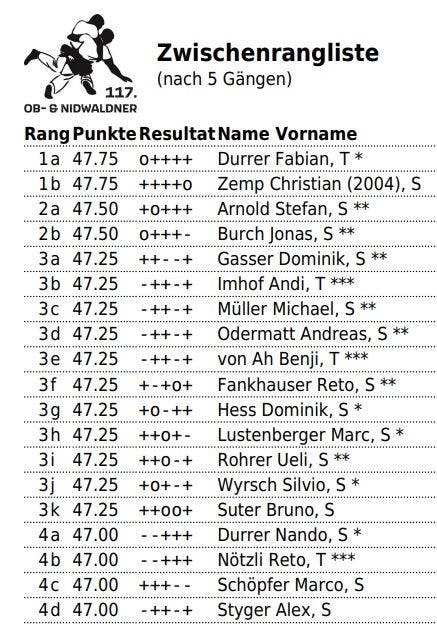 4. Gang
The young Kernser Christian Zemp remains at the top and continues to inspire the audience. In fourth gear, the 17-year-old came close to losing several times against Werner Suppiger, but in the end Zemp countered cleverly and ensured that the atmosphere in the stands reached its peak for the time being. It is the fourth victory for Zemp.
Behind it, many established forces are struggling. The Confederate duel between Benji von Ah and Kilian von Weissenfluh ends in a posed situation. Andi Imhof parted with Dominik Gasser in a draw. And Christian Gerber poses with Michael Müller.
There are also victories for Reto Nötzli (against Pascal Röthlin), Sven Schurtenberger (against Toni Omlin), Erich Fankhauser (against André Bucher) and Jonas Burch (against Reto Fankhauser). Burch is now second behind Christian Zemp. The non-wreath player Marco Creator loses his top position after being placed against Ueli Rohrer.
Intermediate ranking after 4 courses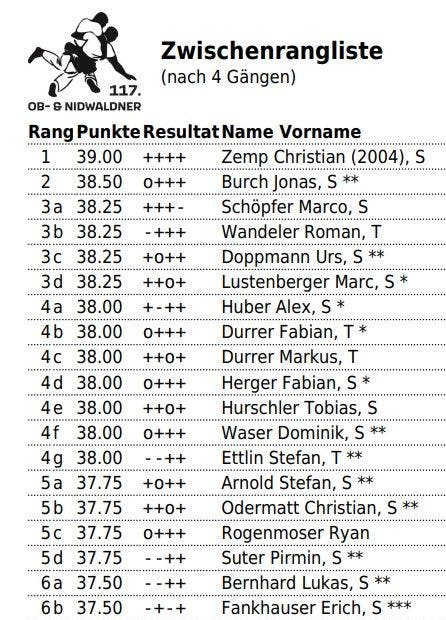 3. Gang
Intermediate ranking after 3 courses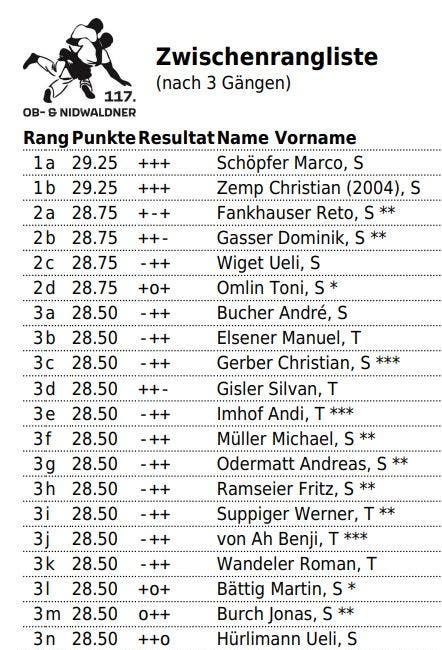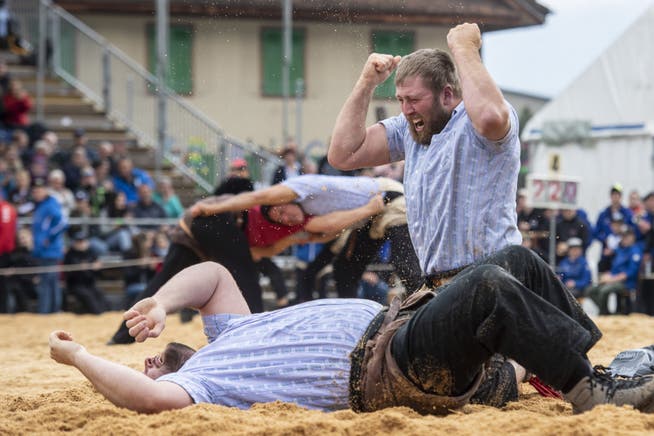 The unexpected happens in third gear. Sven Schurtenberger is laid on his back by Andreas Odermatt. After the referee's "Guet" Schurtenberger pulls with a cross grip and brings Odermatt to the ground. But the Nidwaldner uses the momentum of the Lucerne player to counterattack and wins straight away. Schurtenberger has a win, a posed and a defeat on the sheet at half of the competition. He should have already fallen out of the decision to win the day.
Here Andreas Odermatt beats Sven Schurtenberger.
Video: Tele 1 / PilatusToday
The undefeated Ueli Rohrer and Christian Odermatt suffer their first defeats. Both have to deal with Bernese. Rohrer loses against Christian Gerber. Odermatt is defeated by Kilian von Weissenfluh.
Dominik Gasser is meanwhile with Erich Fankhauser and falls behind. Andi Imhof (against Martin Felder) and Benji von Ah (against Marc Lustenberger) now get the second win. Reto Nötzli gets his first win against Tobias Hurschler.
The starting position is very open at lunchtime. At the top are Marco Creator from Lucerne and Christian Zemp from Kerns. The two non-wreathers each have three wins. The first Kranzer follow in second place with Reto Fankhauser, Dominik Gasser and Toni Omlin.
That's what Sven Schurtenberger says after 3 courses.
Video: Tele 1 / PilatusToday
2. Gang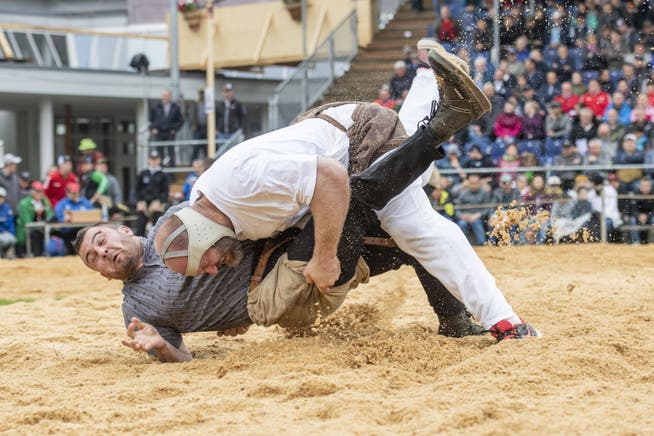 The favorites get going better. Almost all Confederates manage their first victory in second gear. Sven Schurtenberger has trouble with Kevin Steudler from Bern, but then wins shortly before the end of the walk time. Benji von Ah bodigth Silvio Wyrsch and gets the first big round of applause from the home crowd.
There are also victories for Andi Imhof (against Christoph Waser), Kilian von Weissenfluh (against Damian Egli), Erich Fankhauser (against Dominik Hess) and Christian Gerber (against Stefan Arnold). Somewhat surprisingly, Reto Nötzli's actor comes. The Swiss cannot defeat the young Nidwaldner Jonas Durrer.
Dominik Gasser from Bern, Ueli Rohrer from Obwald and Christian Odermatt from Nidwald have two victories. Gasser defeats Urs Doppmann with the first move, Rohrer wins against Martin Bättig, Odermatt against Niklaus Scherer.
Video: Tele 1 / PilatusToday
1. Gang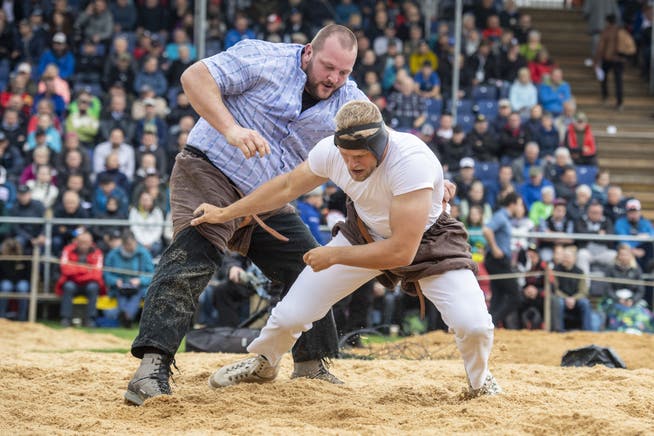 At the end of the first course, Sven Schurtenberger and Kilian von Weissenfluh from Bern meet. The guest from Bern is expected to be a difficult opponent for the Lucerne player. The corridor between the two ends up being posed.
None of the seven Confederates who competed could record a first victory. Andi Imhof starts against Christian Gerber from Bern with a hand. For Benji von Ah, the day against Michael Müller begins with a draw. Von Ah would have originally been assigned against Alex Schuler from Schwyz. Schuler canceled at short notice.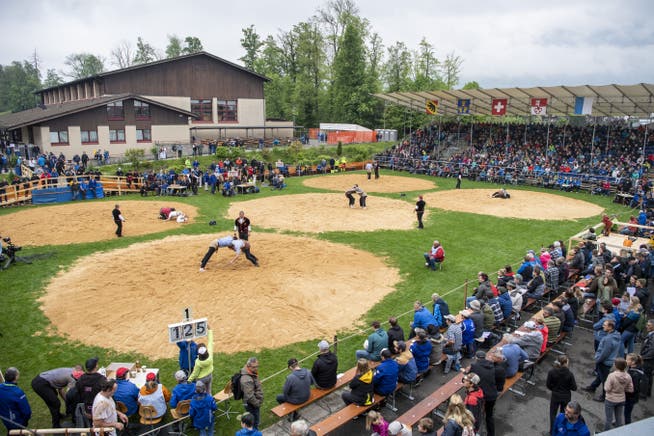 There is no winner between Reto Nötzli and Erich Fankhauser either. The two part with a draw. The hard-fought duel between guest Fritz Ramseier from Bern and Werner Suppiger from Lucerne also ended in a posed situation.
There are victories for Damian Egli (against Adrian Steinauer), Stefan Arnold (against Dominik Waser), Urs Doppmann (against Jonas Burch), Reto Fankhauser (against Christian Bucher) and Ueli Rohrer (against Roman Fellmann).