Chelsea won't let up with Erling Haaland and Jadon Sancho makes an emotional Instagram post. All the news about Borussia Dortmund can be found here.
Borussia Dortmund today on Thursday: Everything that's about BVB can be found here.
And in separate articles you can read the news of the last few days again:
BVB, rumor: Chelsea want to involve Abraham in a possible Haaland transfer
Chelsea FC have turned down offers from Premier League rivals Aston Villa and West Ham United for striker Tammy Abraham. The reason: The Blues want to hand over the attacker to Borussia Dortmund in the course of the intended transfer of Erling Haaland. That's how he writes it Mirror.
Accordingly, Chelsea's managers had made it clear to those interested in Abraham that the 23-year-old should be handed over to BVB for Haaland and thus the enormously high transfer fee for the Norwegian should be pressed.
Abraham is still under contract with the Champions League winner until 2023, and the Blues estimate his market value at more than 50 million euros. A sum that BVB regards as clearly too high. Especially since Abraham under Thomas Tuchel hardly played a role in the last months of the preseason.
Haaland has meanwhile resumed training with the DFB Cup winners this week.
BVB, News: Sancho reacts to hatred after a missed penalty
Three days after his missed penalty in the European Championship final, England international Jadon Sancho denounced the racist insults in an emotional Instagram post. "I will not pretend that I have not seen the racism against myself and my brothers Marcus Rashford and Bukayo Saka," wrote Sancho, who will join Manchester United from Borussia Dortmund.
"Sadly, this is nothing new. We have to improve as a society and hold these people accountable," emphasized the 21-year-old. "Hate will never win." He was still shaken by mixed emotions: "That is by far the worst feeling of my career."
Rashford and, most recently, Saka had also missed the defeat on penalties against Italy at Wembley, immediately afterwards the trio was insulted in the social networks. Then there was a "Lovestorm" in the opposite direction. He was "ready and confident" for his penalty, assured Sancho. "Unfortunately it wasn't meant to be."
He encouraged all young people "who have experienced similar abuse": "Keep your head up and pursue your dreams."
BVB, video: The highlights from the test against Gießen
BVB, News: Hummels examined his knee in Munich
Mats Hummels just can't get rid of his knee problems. Like photos of the picture document, the BVB defender was on Tuesday afternoon on Säbener Strasse in Munich with Dr. Jochen Hahne, who also works for the national team.
He left the premises with tapes on both knees, the main concern being that. To picture-Information, the patellar tendon has inflamed again, which was already handicapped before and during the European Championships. Now he had a computer tomography performed, the injury should be treated conservatively.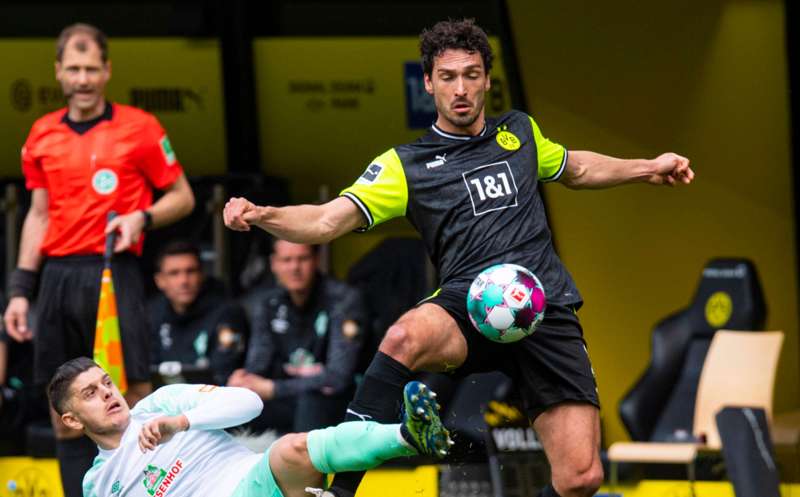 After a vacation, Hummels is supposed to join the team during the Dortmund training camp in Bad Ragaz, Switzerland. This takes place between July 23rd and 31st. The first competitive game of the season is on August 7th in the DFB Cup in Wiesbaden.
BVB, News: Ex-Dortmund striker Petric names best teammate
Mladen Petric played for BVB and HSV for five years in the Bundesliga, in 2012 the striker finally moved to England, where he played for Fulham and West Ham. In an exclusive conversation with Goal and SPOX, Petric has now revealed the best and toughest opponent of his career.
Petric has made 44 international matches and twelve goals for the Croatian national team. There he met the best teammate he has met in his 19 years as a professional: Luka Modric.
"He didn't become a world footballer for nothing. His overview, the technique, the passes with the outside of the instep, that's unbelievably good," says Petric. He had spoken to many defenders about Modric, and everyone would say the same thing about the Real Madrid star: "He's standing in front of you and you have the feeling that now you get the ball. Then he just makes a little hook or picks the ball away . Especially in the first two meters he's really fast, so you just can't get the ball. "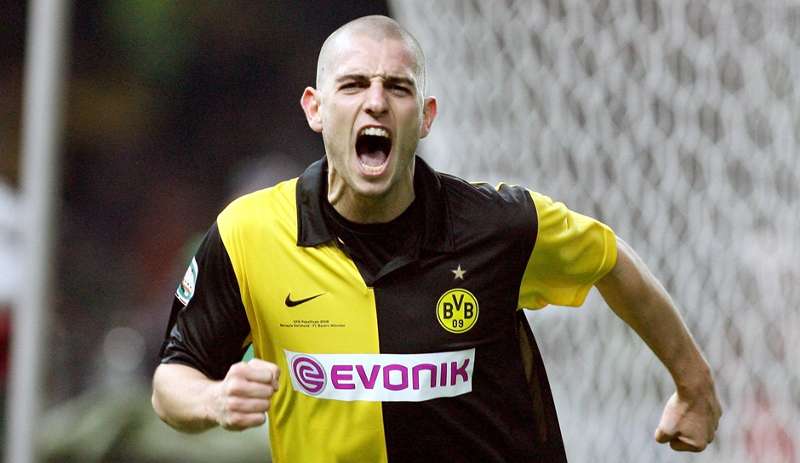 In two of his five seasons in the Bundesliga, Petric met Lucio from FC Bayern Munich as an attacker. Petric was playing for Dortmund at the time, and he also met the Brazilian in the Hamburger SV dress.
Petric describes him as one of his toughest opponents. "Lucio was just angular, you could feel his knee or elbow somewhere on his body every time. He was a really tough dog in a duel," says Petric.
The detailed career interview with Petric, in which he talks about his unusual hobby, the turbulent BVB year, the surprising HSV change and failed transfers to top clubs, can be read on Goal and SPOX on Thursday.
.