Minister of Agriculture and Forestry Kirişci stated that the issue of opening burned forests to tourism is not correct and that they cannot be used for any other purpose, including agriculture.
Minister of Agriculture and Forestry Vahit Kirişci was the guest of Anadolu Agency (AA) Editorial Desk.
To Minister Kirişci, "How will the grain shipment agreement be reflected in the markets? What kind of measures have been taken in the fight against forest fires? What kind of strategy is followed in agricultural production?" questions were asked.
Kirişci, directed to him "The claims that the burned forest areas will be opened to the development areas are frequently brought to the agenda. Can we learn what kind of work has been done in these areas?" gave the following answer to the question:
Minister Kirişci questions and answers
"Nothing can be done, not even agriculture, in areas burned in forest fires"
"According to the law, it is not possible to use these areas for other purposes, including agriculture. There is a clear law in the constitution. You can see that the area comes to life again when the areas are left to their own devices. If the areas do not have such a quality, we plant saplings. A comment like 'It was opened to tourism after the forest fire' is definitely a comment. is not true."
Article 169 of the Constitution is clear

Minister Kirişci stated in the article 169 of the Constitution,"Protection and Development of Forests"what emphasis.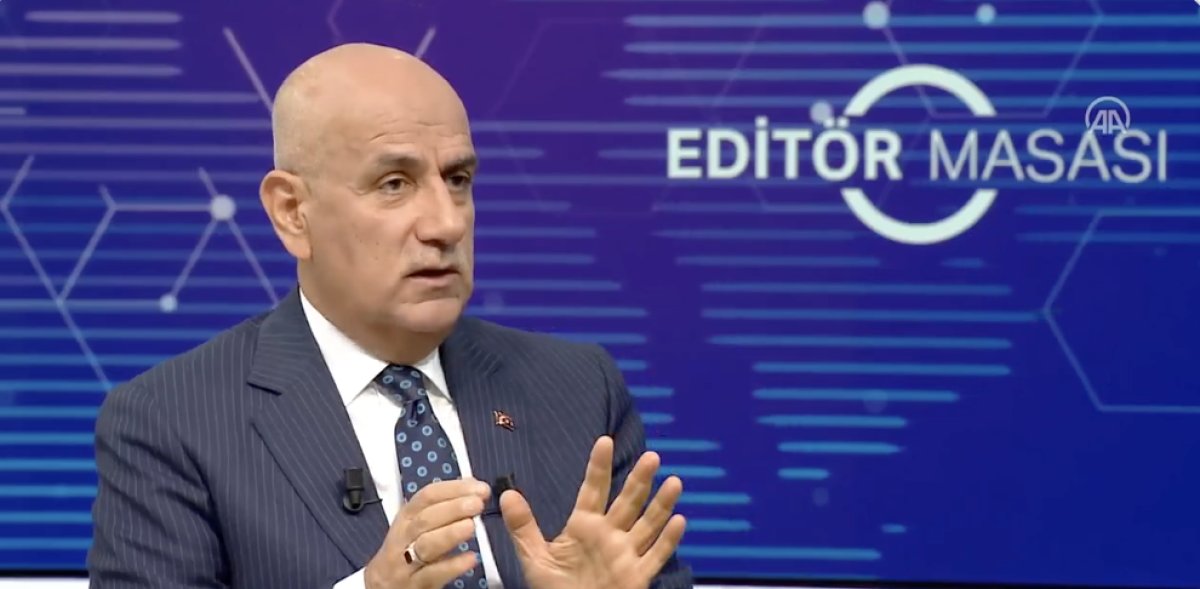 "Only new forest is grown in place of burning forests"
169th in the Constitution "Conservation and Development of Forests" The article is as follows:
"The State enacts the necessary laws and takes the necessary measures for the protection of forests and the expansion of their areas. New forests are grown in the place of the burned forests, no other kinds of agriculture and animal husbandry can be done in these places. The supervision of all forests belongs to the State.
"These forests cannot be owned by statute of limitations"

Ownership of state forests cannot be transferred. State forests are managed and operated by the State in accordance with the law. These forests cannot be owned by statute of limitations and cannot be the subject of easement except for the public interest.
"No activity or action is allowed"

No activity or action that may harm forests is allowed. Political propaganda that leads to the destruction of forests cannot be made; cannot be removed. Crimes committed with the aim of burning forests, destroying or shrinking forests cannot be included in the scope of general and special amnesty.
"There can be no narrowing in the forest borders"

In areas where there is no scientific and scientific benefit in conservation as a forest, but on the contrary, it is determined that there is a definite benefit in converting it to agricultural areas, and in various agricultural areas such as fields, vineyards, orchards, olive groves, which have completely lost their forest quality in terms of science and science before 31 December 1981, or No reduction can be made in the forest boundaries, except for the lands that are found to be beneficial for use in animal husbandry, and the places where city, town and village structures are collectively located.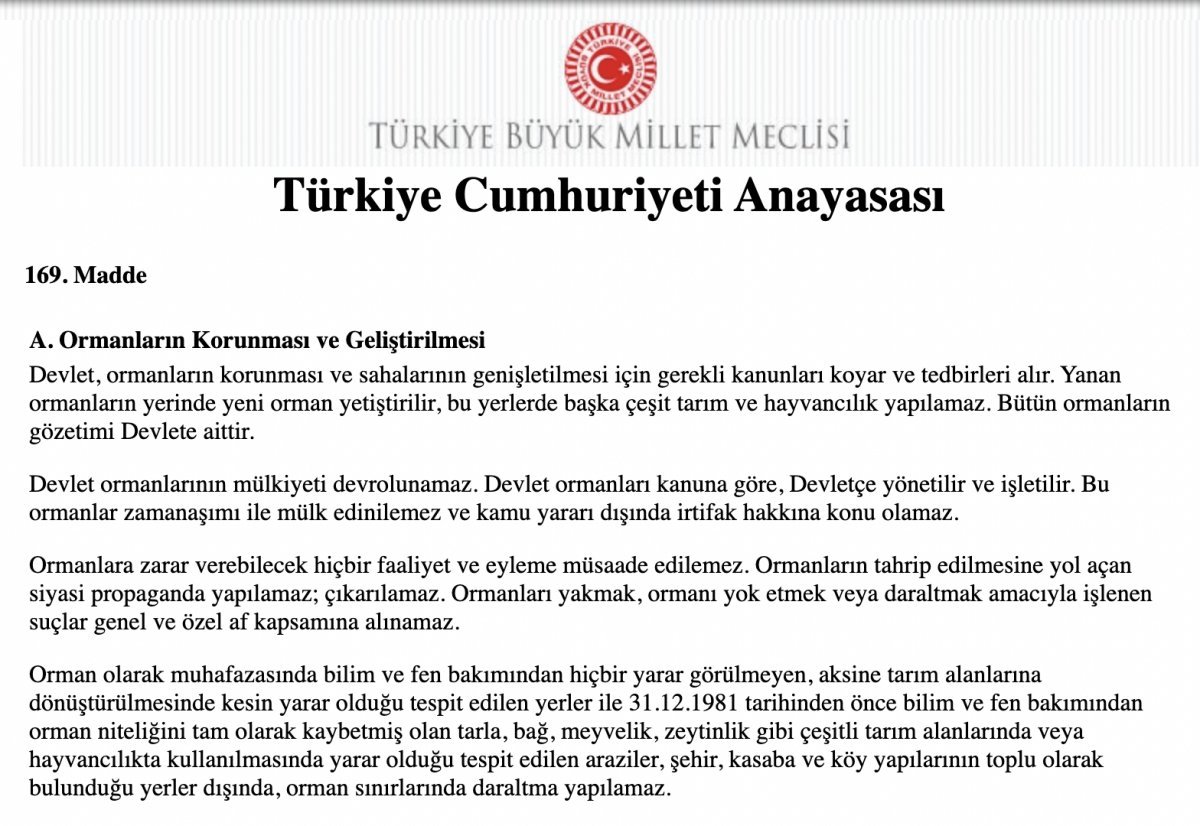 Highlights of the answers given by the Minister of Agriculture and Forestry, Vahit Kirişci:
(Fire-fighting plane) Tomorrow in Sochi, we will bring the issue of buying planes from Russia to a certain stage.
With the resolution of the grain corridor crisis, there has been a great relief for the countries that meet and supply their needs from these countries. This is also reflected in the product prices at the moment. With wheat prices coming to 440-450 dollars, we are now talking about 350-355 dollars. Today, we have a capacity of approximately 8-8.5 million tons. Turkey is self-sufficient in terms of its own needs with this year's harvest. We want to increase our greenhouse production areas in order to prevent the increase in fruit and vegetable prices as we enter the winter months.

We will make a planning about strategic products such as flour, oil, sugar. We will maintain our self-sufficiency in the products we need.
As the Meat and Dairy Institution, we will make a 25 percent discount on the price of lamb.
We have people in big cities who want to return to the countryside, so we encourage small family businesses. Thus, we think that the return to the countryside will accelerate.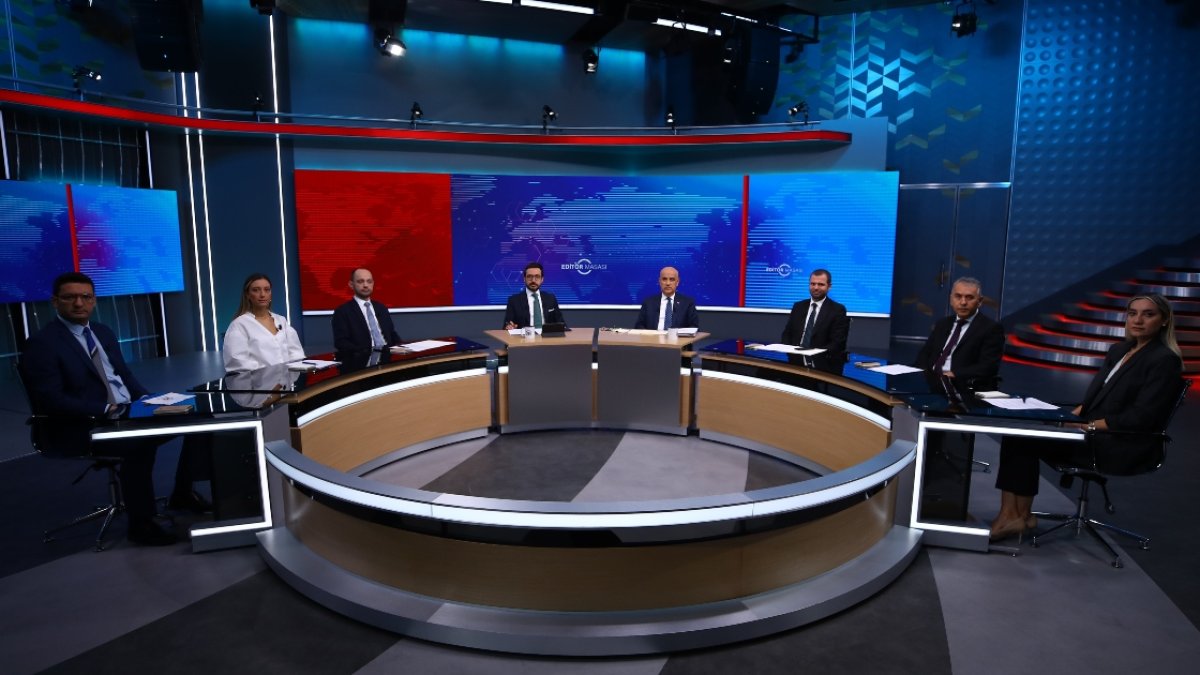 "The number of vehicles in the firefighting has increased"
In forest fires, it is said that 'let it burn' in the world. We are a tree sensitive nation, we cannot say let it burn in the air. They call it airborne intervention, but land intervention is important for us. So what did we do with them, we increased the number of 3 planes to 20. We increased the number of helicopters from 39 to 55. These are helicopters operating at night. For example, we increased the number of UAVs from 4 to 8. We have a team that gave 21 thousand fights.
(Forest fires) When you look at the total, we can say that 90 percent of the fires are caused by humans.
In the 7 months of 2022, there were around 1,100 fires. The fires in Datça, Marmaris and Datça were remembered as the number of days remaining in the mind was extended and it covered a larger area. Fires are inevitable. As a nation, we should be more careful about this. This year, these areas were banned through our governorships. Fires will continue to happen. Forest fires are inevitable. We quickly leave these places to natural renewal areas or plant saplings.
We are reforesting all areas damaged by 2,793 forest fires last year.

As of today, we have completed reforestation works in 75 percent of them. By the end of this year, we will complete the work on the remaining site and reforest it.

We currently have both leased and owned aircraft. THK's planes were discussed. If these planes can be renewed, we said we would buy them. We are using two of them renewed. Others are also being renewed, we are waiting. It is not possible to deliver to you the next day regarding the purchase. We have something to buy. They scheduled it to 2030. The real thing is our black power. Our current fleet is self-sufficient. We also receive support from countries such as Azerbaijan, for which we provide international solidarity.
Sworn agricultural engineers and veterinary practice are coming."