Mdrid
Updated:
save

When we meet a person with cardiovascular disease, Alzheimer's or diabetes, we do not think that they have not brushed their teeth well. We associate poor oral hygiene with problems in the mouth such as cavities, inflammation of the gums and bad breath, but not with complications in other parts of the body.
Still, good oral health is essential for optimal body function. Oral diseases can contribute to the development of systemic diseases. In fact, there is new evidence that bacteria in the mouth can get to other places in the body and cause problems. Even in our brain!
In general, each person has between 100 and 200 species of oral bacteria out of the 700 identified oral species. When I ask someone how many bacteria they think are there per milliliter of saliva, they often underestimate the correct answer: We have around 100 million bacteria per milliliter of saliva.
These bacteria live on teeth, tongue, gums, and other oral surfaces. There they form structured communities such as dental plaque and the white tongue coating. When released, they enter the saliva. Adding up all the bacteria in the mouth, the number reaches billions. We call this set the "oral microbiota."
Tranquility! In general these microorganisms will be our friends while we take care of them. First, they protect against external pathogens. When new bacteria enter the mouth, it is much more difficult for them to survive because there is an army of bacteria of their own inhabiting space.
In addition, beneficial oral bacteria convert nitrate from vegetables and fruits to nitrite. This can have positive effects on the body such as lowering blood pressure and antidiabetic effects.
Normally, our own bacteria are not pathogenic, but they can cause oral diseases in healthy people due to unhealthy habits. An unhealthy diet or poor oral hygiene can cause an imbalance: some types increase in number and others decrease.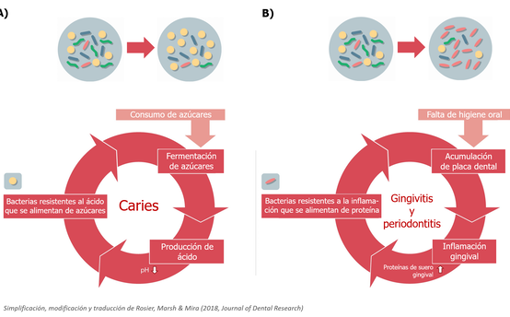 For example, if we consume sugar, bacteria in dental plaque that eat sugars increase in number. These convert sugar into organic acids. Some acid producers are very resistant to it, while sensitive ones die.
If we consume too much sugar, the bacteria that eat sugar and produce acid increase so much in the dental plaque that acidification damages the enamel. Over time, this can lead to cavities.
Another more relevant example for systemic diseases is periodontal diseases. Due to a lack of proper oral hygiene, dental plaque accumulates and our bodies react with inflammation of the gums, which includes an increase in antibacterial components and immune cells to reduce the number of bacteria. If we do not treat such inflammation, the bacteria that are most resistant to the inflammatory response may increase in number, while the sensitive bacteria die.
Also, due to inflammation, more protein comes from a blood-like gingival serum that comes out of the gingival sulcus. These become food for some bacteria, stimulate their accumulation, and thus create a vicious circle.
If the initial inflammation, which we call gingivitis and is generally reversible, is not treated, chronic and destructive inflammation can develop: periodontitis. Periodontitis causes the loss of human tissue and the formation of periodontal pockets filled with bacteria around the teeth (left part of Figure 3).
There is evidence that periodontitis can contribute to the development of different systemic complications and diseases. Having periodontitis increases the risk of, for example, rheumatoid arthritis, atherosclerosis, hypertension, Alzheimer's, diabetes, and complications of childbirth.
In people with periodontitis, different mechanisms can contribute to the development of other diseases. For example, the large number of proinflammatory molecules produced by human cells in inflamed gums can reach other parts of the body and cause inflammatory reactions in those areas.
Going to the dentist to treat periodontitis is important to reduce this inflammation.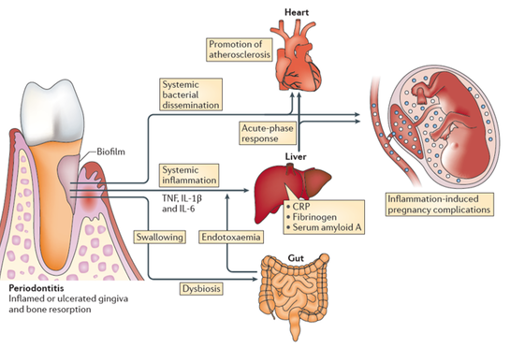 Furthermore, it has been discovered that some bacteria that increase during periodontitis and compounds produced by them can reach different parts of the body via the blood or gastrointestinal route. Said bacteria have been detected within immune cells circulating in the blood, atherosclerotic plaque, the placenta and intestinal tumors, among others.
The best-studied periodontitis-associated bacteria is called Porhyromonas gingivalis and several mechanisms have been found that explain how it can contribute to destructive gum inflammation and systemic diseases. It is sometimes found in low amounts in healthy people, but it is common in periodontal pockets of people with periodontitis.
Recently, a group of researchers studied the brains of people who died with Alzheimer's disease. They found DNA from Porhyromonas gingivalis and enzymes called Gingipains, which break down human proteins. Furthermore, the amount of these enzymes was correlated with the severity of the disease.
The researchers fed high amounts of this bacteria to mice, and the pathogen successfully colonized the brain. The animals developed Alzheimer-related symptoms, but those who received a Gingipain treatment, with an inhibitor developed by the study authors, came out better off.
One conclusion was that Porhyromonas gingivalis could reach the brain and, over the years, contribute to the development of Alzheimer's.
The healthy human body has a mutually beneficial relationship with the human microbiota, including the oral microbiota. Due to inadequate hygiene or an unhealthy diet, oral bacteria can cause complications in the mouth and the rest of the body. The American Dental Association recommends brushing your teeth twice a day with fluoride toothpaste (1,000 – 1,500 ppm), cleaning between your teeth daily, and visiting your dentist regularly. Oral diseases should not be left untreated.
In this regard, in the US states where oral treatments are reimbursed, insurance spends less money on diabetes, strokes, and heart attacks.
Keep in mind that other factors, such as smoking (also e-cigarettes) and genetic susceptibility, also increase the risk of developing oral and systemic diseases.
Still, good oral hygiene is the key to preventing oral disease. Aside from showing a better smile, it is important to maintain good health throughout the body.
Author: Bob T. Rosier PhD Student, Fisabio. Reviewed by: Alejandro Mira Obrador. Senior Researcher, Fisabio
This article has been previously published in THE CONVERSATION
.