A man from Plymouth, England, let a stranger park his car in December. Now, seven months later, the vehicle is still there.
the essentials in brief
Omar Badran's driveway has been blocked by a stranger's car for seven months.
The Brit kindly let the stranger park with him.
Now he can't get rid of the vehicle and wants to have it evacuated if necessary.
Actually, Omar Badran from the English city of Plymouth just wanted to do an unknown person a favor: instead, a stranger's car has been blocking his driveway for seven months now!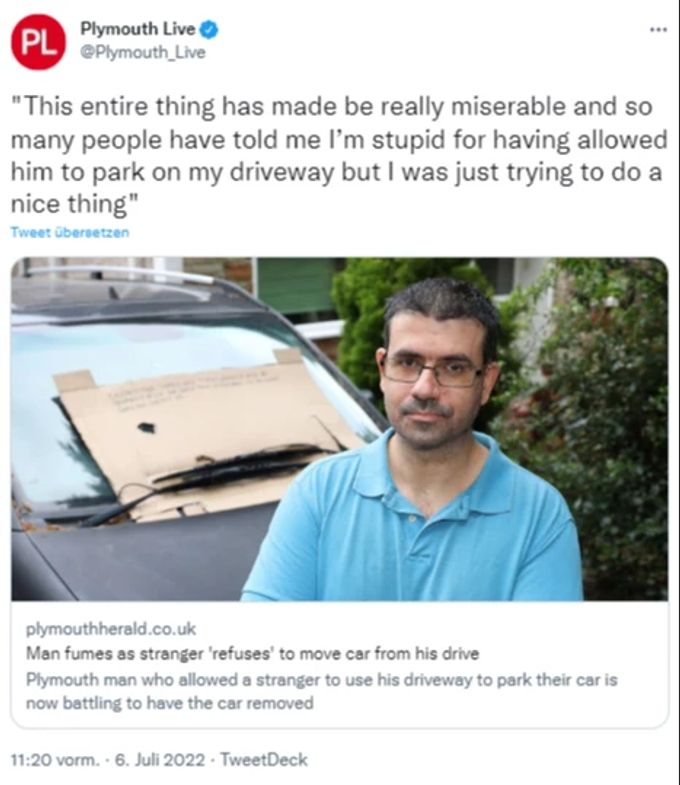 As reported by "Plymouth Live", Badran had someone park in front of his house in December 2021. "I was just trying to do something nice," he explains. He doesn't have a car himself that would need the space.
However, the deal came about under clear conditions. Badran says: "I agreed on the condition that I can use my driveway again if I want to."
But the driver of the parked car just doesn't show up anymore. It's now July 2022 – and the car is still with the friendly host.
Have you ever left your car in someone else's driveway?
15%
Yes, but I released the space again.
1
Yes, but I released the space again.
Badran also receives criticism for his kindness, as he says about "Plymouth Live". The whole thing makes him unhappy. "A lot of people have told me I was stupid for allowing him to park in my driveway."
Now he has had enough himself and threatens the stranger with legal action. He put a message to that effect on the windshield. It is currently unclear whether the driver clears the car after all or whether it is finally cleared.
More on the subject:
Driveway

---