BNK Kyongnam Bank announced on the 1st that it would provide a 'one-on-one financial counseling service' in connection with the 'retirement/retirement communication community' operated by mobile banking.
Retirement/retirement communication community 'Wayers' is a space where customers who are about to retire can talk freely and anonymously, and it is being serviced through BNK Kyongnam Bank's mobile banking.
The retirement finance team guides customers who have applied for 1:1 free financial counseling through the community on how to increase assets and how to utilize the system.
BNK Kyongnam Bank is a 'retirement/retirement communication community' operated by Mobile Banking.
In particular, it operates comprehensive and systematic services ranging from retirement pay, unemployment benefits, health insurance, national pension, and basic pension, and provides professional comments on questions posted in the community.
To use the service, access the 'Life Benefits' menu at the bottom of the main screen of BNK Kyongnam Bank's mobile banking app and select 'Smart Retirement/Retirement Community' from the 'Retirement & Pension' section.
Kang Kyung-ok, general manager of the Retirement Finance Team, said, "For the hopeful retirement and old age of customers and local residents, we have decided to provide one-on-one financial counseling services in connection with the retirement/retirement communication community. She made it possible for counseling to proceed more freely in an anonymous and non-face-to-face format. In the future, she plans to hold online and offline seminars for Community Ways subscribers to widely share what more people should know about retirement or retirement," she said.
Currently, the Retirement Finance Team of BNK Kyongnam Bank is conducting financial planning seminars for prospective retirees targeting various local institutions and businesses. Based on this experience, they are informing the need for financial counseling before and after retirement and helping local residents in their second lives.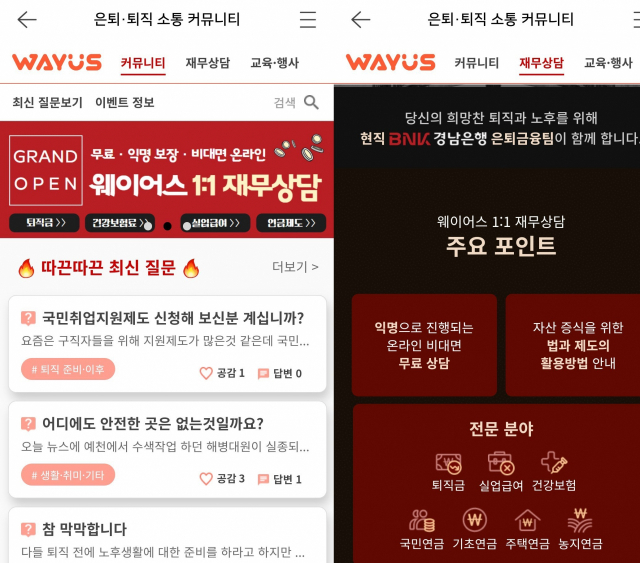 I would like to pay a subscription fee for this article.
Add +1,000 won
Add +10,000 won
-Add 1,000 won
-Add 10,000 won
Payment may not proceed smoothly in some Internet environments.

343601-04-082252 [예금주 프레시안협동조합(후원금)]Account transfer is also possible.