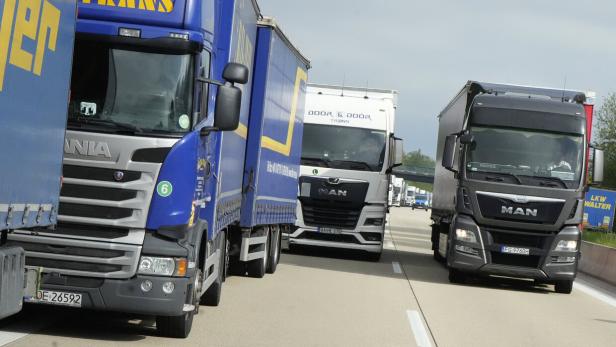 © Kurier/Muehlanger picture agency
The applicant is a family business that is already being run by the third generation.
"We guarantee our customers quick processing and optimal support. Unforeseeable events and force majeure can sometimes result in inconveniences and delays. For example, cargo does not arrive on time, accidents, breakdowns, delays, etc.," says the company's website. "Many companies trust our services, because where Hoffmann says it, there is quality inside and we are proud of our long-standing customers, because loyalty is important to us."
We're talking about the Rudolf Hoffmann Society Ltd. based in Güssing. She has applied to the Eisenstadt Regional Court for the opening of restructuring proceedings without self-administration. The applicant most recently employed 15 employees. According to its own statements, the applicant has eleven trucks, seven of which are owned by the applicant.
"The applicant is a family business that is already being run by the third generation. The company offers transport services both nationally and internationally. Business activities are not only carried out with our own vehicles, but also with sub-freighters," says the AKV.
The background
Insolvency proceedings under GZ 26 S 237/02 were opened at the Eisenstadt Regional Court in 2002 over the applicant's assets, which ended in compulsory composition.
"Consequently, the applicant was able to continue the business successfully, with Güssinger Beverages & Mineralwater GmbH acting as the main customer. However, insolvency proceedings were opened on their assets in 2019," said the AKV. "As a result, the applicant lost one of its most important clients and had to accept considerable bad debts of around 130,000 euros. The restructuring measures carried out afterwards, in particular the downsizing and the reduction of the vehicle fleet, did not bring the desired success. In addition, the effects of the corona pandemic ultimately led to the application being submitted."
debt and wealth
According to the available documents, 180 creditors with total claims of around 570,000 euros are currently affected by the insolvency proceedings.
"However, there are outstanding claims in the amount of 370,000 euros, the value and collectibility of which must be checked. In this case, however, it must be assumed that there is a global assignment in favor of a creditor," it continues. "An inventory and an estimate of the fixed and current assets in the company will now be commissioned by the restructuring administrator to be appointed. Only after these values ​​are available can a statement be made on the exact financial situation."
( kurier.at ) | Today, 10:39 AM | Updated at 10:55 AM