In his monthly cryptocurrency outlook report for the month of June, Bloomberg analysts estimated that despite the recent plunge, the cryptocurrency trend is still in an uptrend, Allan even judging that "Is on track to reach a six-figure figure in 2021."
Bitcoin price: More likely to climb to $ 100k than to drop to $ 20k
Note that this report brings some hope, as Bitcoin is down more than 40% since its April high, and attempts to rebound are currently blocked by a major resistance zone.
"Bitcoin is more likely to resume appreciation towards the $ 100,000 resistance rather than staying below $ 20,000" can we read in the report.
However, while Bloomberg analysts do not rule out a 6-digit Bitcoin, that does not prevent them from believing that Ethereum has a chance of moving to the number one position in the cryptocurrency market.
Why Ethereum could move ahead of Bitcoin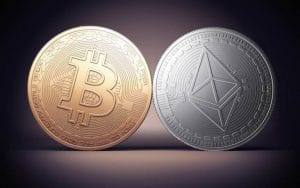 The report also underlined the growing importance of Ethereum, noting that cryptocurrency is the premier smart contract platform and hub for thousands of tokens, and deeming it to be "a key element of the digitization of finance. "
Bloomberg therefore clearly suggested that Ethereum could take Bitcoin's place as number one in the cryptocurrency rankings, as "the trend that appears to be lasting is that Ethereum is gaining market share compared to Bitcoin."
Note that at the time of writing this article, Bitcoin has a capitalization of 680 billion dollars, against 322 billion for Ethereum.
Despite the wide divide that still separates it from Bitcoin, Bloomberg believes that ETH is "in a unique position as a leading provider of virtual shovels amid the cryptocurrency gold rush."
Analysts optimistic about a Bitcoin ETF
Finally, analysts have also been optimistic about the prospect of a Bitcoin ETF in the United States, an event that cryptocurrency experts expect as the next decisive catalyst for Bitcoin's rise.
"We believe it is only a matter of time before there are crypto ETFs" they indeed wrote.
Remember that an ETF on Bitcoin in the United States would allow millions of Americans to access cryptocurrency via their classic trading account, and would ultimately cause a massive influx of fresh money into the market, which constitutes undoubtedly a bullish factor.