The actress assures that she asked King Juan Carlos I for help on different occasions, but it was of no use
Bárbara Rey confesses her love story and her disappointment with Juan Carlos I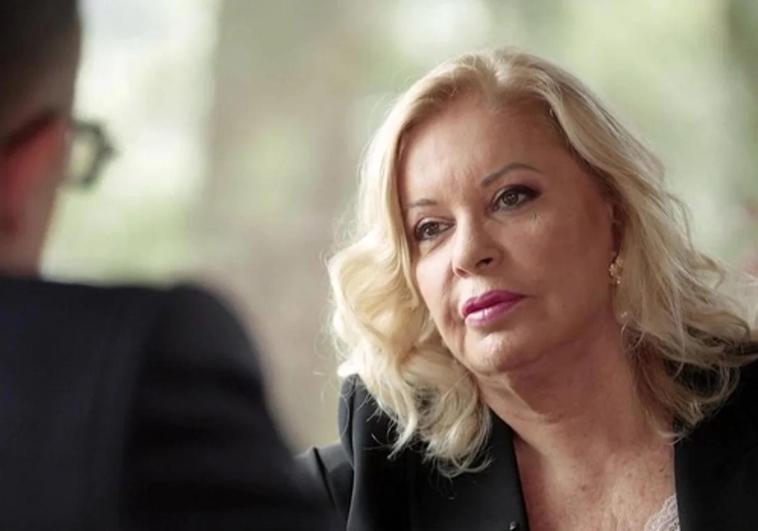 Bárbara Rey, guest on 'Traveling with Chester'
Four
Juan Carlos I and Bárbara Rey celebrated their forbidden meetings in a house, "Always the same". And by then, she knew she was being spied on: "There were noises on the phone. But she, she didn't care, he felt untouchable and nothing affected him».
Barbara then became the muse of the UCD of Adolfo Suarez. "I went in because a very dear person asked me to," Barbara commented that she did not want to give up.
"The King?" Risto asked him. The actress's face, with her poorly contained smile, said it all. That experience of hers with her politics did not convince her because she, she assures, harmed her professionally. It's her mantra. And Barbara, who was already chastened, decided to go from being recorded to recording on her own: «I did not do it for blackmail. I did it because of his bad behavior». And it is that, according to the actress, the monarch was not generous to her as her lover and he did not worry about protecting her as he should: «I have not had bad faith, but he misbehaved with me. I don't know if he or his surroundings, I don't care, but I told him several times. I asked him for help and he blurted out 'Oh, if only I had a magic wand' ».
Barbara is an old acquaintance of Emilio Alonso Manglanothe one that was from the Superior Defense Information Center, which relates it to the payment of public funds to buy its silence: «If you have used public money, it is your problem», she answers bluntly.
We are talking specifically about two, a payment of 25 million pesetas to silence the existence of a photo in which the emeritus touches the actress's chest (1994) and, also, the alleged payment of 100 million pesetas (1997) and a series of 10 payments of 50 million in 10 years to silence the relationship between the head of state and the vedette: «I have not received any money, nothing came to me».
Barbara acknowledges that she asked the monarch to intercede for her: «I had been banned and that affected me professionally. I spoke to him clearly. I don't know who she was able to talk to or what she was able to do, I just started working with public television. But if there is something that came out of the funds, I don't know».
At that time he came to present a daily cooking program on the defunct Channel 9. There was talk of a contract of 5 million euros: «He earned 20,000 euros a month. And all the dishes were prepared by me.» It is the minimum, at that price.