Page 1: ASUS ROG Fusion II 500 in review: RGB gaming headset with Quad DAC
The ASUS ROG Fusion II 500 is a thoroughbred gaming headset that aims to stand out from the competition with a powerful quad DAC, large drivers and a beam-forming microphone configuration. We will clarify in our test whether so much high-end equipment ultimately results in a better sound.
ASUS has long been offering the full range under its ROG label to launch a thoroughbred ROG gaming setup. A gaming headset is a must these days. The new ROG Fusion II 500 is clearly assigned to the high-end class in the ASUS cosmos, which quickly becomes clear when you take a look at the equipment. Among other things, ASUS focuses on the DAC, which is an ESS 9280 QUAD DAC. ASUS relies on models with a diameter of 50 mm as drivers. A virtual 7.1 surround sound should not be missing from the checklist for a high-end gaming headset. ASUS, on the other hand, takes an unfamiliar path with the microphone solution. An ANC solution is of course included, but the Fusion II 500 does without a classic microphone arm and instead uses a beamforming solution.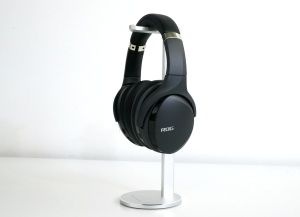 However, it is a classic, wired headset that can be connected to the computer via a jack or USB Type-C. Both types of cable are included in the scope of delivery. In addition, ASUS includes an adapter from USB type C to type A. A second set of ear cups is also included. What we miss is a transport bag to transport the expensive piece well protected to the next LAN party.
The ASUS ROG Fusion II 500 is priced at around 190 euros, so it is also clearly classified in the luxury range for a gaming headset.
ASUS ROG Fusion II 500
model
ASUS ROG Fusion II 500
colour
dark grey
RGB lighting
and
Surround-Sound
Virtual 7.1
driver
Custom 50 mm
battery life
–
frequency range
20 Hz – 40 kHz
impedance
32 Ohm
microphone
Ominidirektionl Beamforming
Micro –
impedance
2k Ohm
Micro –
frequency range
100 Hz – 10 kHz
Weight
382 g
Guarantee
2 years
price
190 Euro