"There are 4.4 million people over 60," Kiliç-Parro de la Paz (48) calculates. They belong to the risk group, just like those who are eligible for the flu shot due to medical conditions. "That is about another 1.5 million. So you're talking about 6 million people." People, she says, who need to get a booster shot as soon as possible and now have to wait far too long.
Kiliç-Parro de la Paz herself, who has severe asthma, received her second shot in June. She has to wait until March or April next year for the booster vaccine. "It's just too late. That is too late for many risk groups." Especially now that the number of infections is so high, she says. "I can't shield myself from that. My child goes to school, my husband is a driving instructor. Although they both have an FFP2 mask on, they are in constant contact with other people."
#ForgetUsNotHugo

It is not the first time that Kiliç-Parro de la Paz has made itself heard. She already sounded the alarm via the action group #VergeetOnsNietHugo at the beginning of this year: people with, for example, asthma and a muscle disease did not receive their first injection until June, while people with vulnerable health would be one of the first to be vaccinated. She spoke about it on 20 April with Minister Hugo de Jonge.
She has also been advocating a booster campaign for the vulnerable since the end of the summer. According to Kiliç-Parro de la Paz, the booster campaign in the Netherlands started much too late. "From data from abroad it was already known in the summer that the protection of the vaccines would decrease." she says. "There are two layers: decreasing protection against infection, and against hospital and IC admission."
Although the course of corona is milder for people with a vaccine, mild infection is also not a good plan for some, she explains. "I'm already tired of it often at the moment."
'Longest three minutes of my life'

That is why Kiliç-Parro de la Paz left for Vienna last weekend with his husband and child. "I saw a message from a Viennese doctor, Ingomar Gutmann, about corona vaccines for children. Then I read that the booster program there was open to all EU citizens." She surfed to the website with which an injection appointment in Vienna could be made. "I could indicate that I did not have an Austrian social security number and enter a Dutch address."
However, Kiliç-Parro de la Paz was not one hundred percent certain when the family left for Vienna with the appointment in their pocket. There are several reports online about the possibility for foreigners to get a shot in Austria. "I thought: I'm just going to try it. Otherwise it would have been an unplanned weekend in Vienna."
At the injection site it was still tense: the employee did not know whether the family was eligible for a vaccine – booster shots for her and her husband, and a first shot for their son. She went to ask. "The longest three minutes of my life." says Kiliç-Parro de la Paz. "Her supervisor said yes, you can just sign them in."
Poke with that bite

The family is now back, vaccinated and well. But actually, she thinks, this trip shouldn't have been necessary: ​​"I want to emphasize: I would never have done this if it had been properly arranged in the Netherlands. I would also rather have gone around the corner at the RAI. But next year… that will not help anyone."
That's why she continues to campaign for a faster booster shot, she says. "I want to have this on the agenda. If there is the will to scale up the GGDs, we will remove the entire group in four to six weeks." In short: more capacity must be created at the GGDs to significantly increase the injection rate. "And then poke with that bite."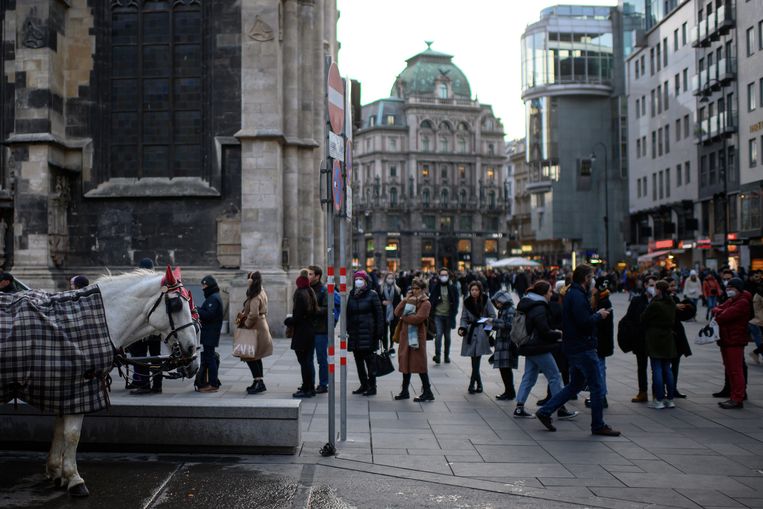 Vaccinating in Vienna: formal not allowed for all EU residents
Residents of Europe can get vaccinated in Vienna, but only if they have a relationship with the city. "You don't need a formal residence in Vienna, nor an Austrian social security number," explains Mario Dujaković, spokesman for Vienna's Councilor for Social Affairs, Health and Sport Peter Hacker. "But you have to have a connection with Vienna. For example because you have family there, or because you work in Vienna."
Moreover, Dujaković emphasizes, 'we cannot recommend vaccine action tourism in Austria'. "We will have a vaccine shortage if half of Europe comes to Vienna for a shot." Why did the Kiliç-Parro de la Paz succeed? "She was lucky, which is very nice for her," says Dujaković. "We vaccinate 30,000 people a day in Vienna. The doctors probably thought: we have no time to lose, so they vaccinated her."
In addition, Vienna also vaccinates homeless people and students, who also have no formal residence in Vienna, and no Austrian social security number. "So technically we don't look at it strictly. But they must have an official connection to Vienna. We also need a Viennese address to contact them." Dujaković also points out that it is unclear whether people who are vaccinated in Austria can receive a usable corona certificate. "That quickly becomes very complex." He emphasizes that coming to Vienna for a shot is 'a gamble'. "We cannot therefore recommend it."