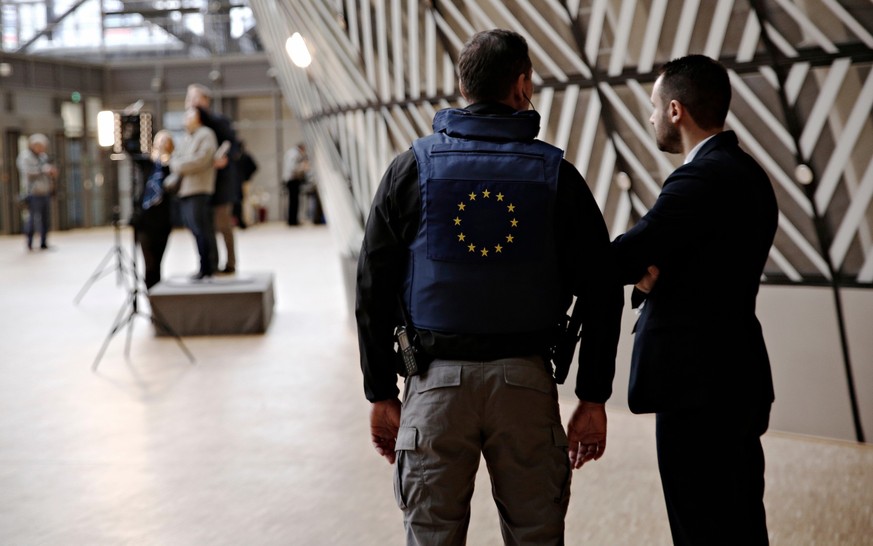 Security officers at the European Council building in Brussels. An important decision on digital surveillance is expected to be made in September.Bild: Shutterstock
Analyse
A statement from the company's Californian headquarters confirms that even well-intentioned on-device monitoring would create unsolvable security problems. Now the question is what European politics is doing.
Notoriously, Apple abandoned the highly controversial plan to search users' devices for known child sexual abuse material (CSAM) before uploading that material to iCloud.
In a step that is rare for the company, which is considered confidential, a high-ranking manager has now given a relatively detailed explanation.
The letter was given to the US magazine Wired. And it shows that the massive concerns were absolutely justified. Numerous actors from civil society, science and politics, but also from the media, had feared that such a tool could inevitably be misused and exploited and endanger the privacy and security of all users.
It is a written statement for the attention of a US child protection organization, which had asked Apple to take more decisive action in the fight against the distribution of the vile videos and images.
Threatening "mass surveillance"
Erik Neuenschwander, Apple's director of privacy and child safety, writes that after working with a number of privacy and security researchers, digital rights groups and child safety advocates, it concluded that it could not proceed with the development of such a scanner mechanism, even one that specifically was developed to protect privacy. Because:
"Scanning for one type of content, for example, opens the door to mass surveillance and could create a desire to scan other encrypted messaging systems across content types."
those: wired.com
And the danger of devastating hacker attacks is more or less directly confirmed:
"Scanning each user's privately stored iCloud data would create new points of attack for data thieves to find and exploit."
Is the topic finally off the table?
Unfortunately no.
Wired notes that Apple's stance is relevant to the encryption debate in general. Especially since countries like Great Britain are considering passing laws that would require tech companies to be able to access encrypted user data in order to comply with law enforcement requests.
And highly controversial mass surveillance plans are also being pursued in the European Union (EU). netzpolitik.org reported this week that the EU states insisted on mass surveillance of communications from non-suspects. And this against the advice of its own lawyers, who describe the so-called "chat control" as illegal.
The German government is firmly against the so-called client-side scanning and the scanning of encrypted communications. And the justice ministers from Switzerland, Austria, Luxembourg and Liechtenstein have already expressed serious concerns.
If the supporters within the EU have their way, the project should be pushed through this month. However, it is possible that the proposed law will still fail, netzpolitik.org notes:
Four countries with at least 35 percent of the EU population can form a blocking minority. If they vote against or abstain, they can block the proposal. That is quite realistic: Poland, the Netherlands, Sweden and Austria express fundamental criticism.
those: netzpolitik.org
Law enforcement agencies and politicians around the world consistently raise the CSAM issue to argue against the use and expansion of end-to-end encryption.
However, research has shown that full encryption is an important security tool to protect vital human rights. Ensuring child protection and combating pedophile crime should be tackled using other means.
The decision not to integrate a "child porn scanner" into the operating system was communicated by Apple in December 2022. He triggered relief from IT security experts, data protectionists and human rights activists. The project, originally announced in August 2021, was considered controversial from the start. watson has also spoken out strongly against it.
Sources
How to enable advanced iCloud encryption
Bear family walks through the middle of a small Italian town
Video: watson
This might also interest you:
Amazon and Google are making their voice assistants usable on one device at the same time for the first time. Both Amazon's Alexa and Google's Assistant can be addressed on a speaker series from the hi-fi brand JBL that was presented on Wednesday. Some actions such as music playback, timer or alarm clock can also be started with one voice assistant and stopped with another.