We often talk about solar panels, and renewable energies… Installing a solar power plant can represent a big budget that not everyone can afford… But, if you are a bit of a handyman, making your own power plant can be a real good plan. Audren Van Zalk, a resident of Lot, confides his experience to the Energy Revolution website, and explains how, in a few days, he built his own photovoltaic power plant which will cover more than half of his electricity needs. A look back at this experience which could give ideas to those looking for a solution to reduce their electricity bill.
How did he build his solar power plant?
Audren works in construction and still has some knowledge to carry out its installation. His construction site took him two weekends in all, the first was devoted to the construction of the wooden structure, and the second to that of the solar panels. He chose to install 8 panels of 400 Wp, which therefore deliver a power of 3.2 kWp, restrained by the 3 kWp inverter regulated by Enedis. His panels were installed on a wooden structure that he also built himself. And this is obviously to cope with future energy price increases, expected in 2024 when the tariff shield will have disappeared, that he decided to take on this little challenge.
How much did it cost him?
Before placing an order, he had to do a lot of research on the specific technical standards of photovoltaics; it was not only a question of manufacturing his power plant, but of using it… The young man then bought the panels, the inverter and AC/DC boxes, for a cost of around €2,200, and he added the wood , electric wires, and screws for a total cost of 2700€. He therefore considers its cost price at €844 / kWp when the installation by a professional costs between 1500€ and 3000€ / kWp. The economy is just awesome, right?
Audren has chosen to reinject free of charge what it does not consume into the public network, which has saved it from sometimes lengthy administrative procedures, because in order to be remunerated for the electricity reinjected, you must have the approval of the Consuel and respect very strict conditions. He then chose a home battery to store his energy and use it for his needs, including to power the battery of his electric car Renault Zoé 22 kWh for which it uses all the energy overproduced by its photovoltaic plant. For now, Audren manually takes care of the load shedding, but it should soon be able to automate it. In the meantime, everything is working perfectly!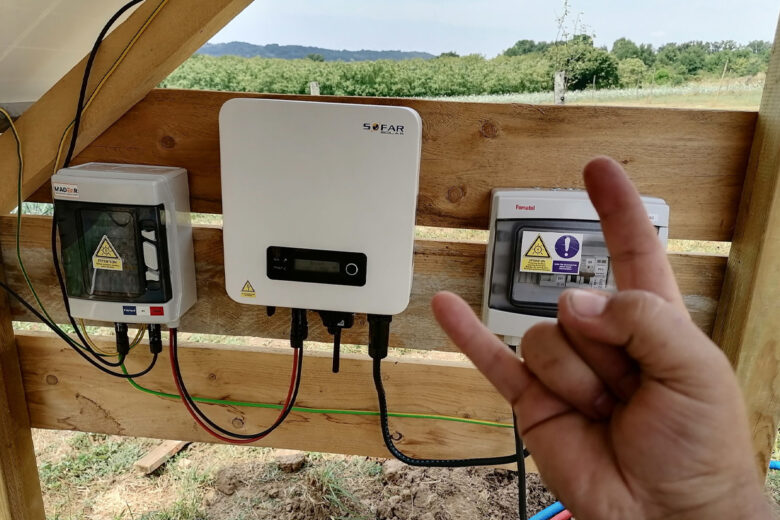 An orientation he chose according to his needs…
We have already explained it to you, the solar panels must generally be oriented due south. Audren, he chose to orient them to the South-West because his energy needs are greater in the evening; a way to optimize its production according to its needs. He thus hopes generate 3200 kWh of electricity per year and be able to fully power his Renault Zoé, which consumes 2,000 a year.
First charge of the Zoé at photovoltaic 💪⚡#TransitionRurale pic.twitter.com/Gigmjzvhe9

— ObjectifZeroCarbone (ou presque …) (@ObjectifZero) July 25, 2022
The remaining 1200 kWh will cover half of its annual domestic consumption. He could thus realize an annual saving of 1200€ in electricity and pay off its photovoltaic plant in less than 3 years… Isn't life beautiful? More information : ObjectifZeroCarbone (or almost…) / Twitter. Do not hesitate to consult his YouTube channel, Audren shares many very interesting tips.