A couple in an incestuous relationship who murdered their two teenage sons and attempted to kill their other four children was jailed for life.
Sarah Barrass, 35, and her partner, 39-year-old Brandon Machin, who is also his half-brother, had planned to kill their six children, fearing to be taken care of. They were both sentenced to life imprisonment on Tuesday with a minimum sentence of 35 years.
Tristan and Blake Barrass, aged 13 and 14 respectively, died after being strangled by the couple on a property in the Shiregreen area of ​​Sheffield on May 24.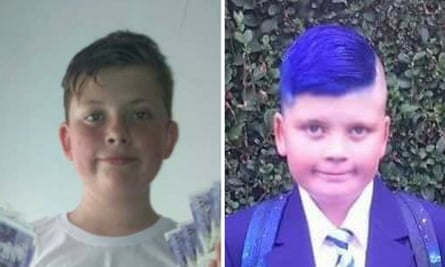 A court heard that before the murder, Barrass and Machin had given their four older "terrified" tablets used to treat ADHD against their will. When the tablets did not work, Barrass – who said, "I gave them life. I can remove it – searched online for other ways to kill his children, including suffocation, choking and drowning.
It was said at the court that Barrass then strangled Tristan with his dressing gown and that Machin then strangled Blake with his hands.
The two men also attempted to kill one of the youngest children by trying to drown them in a bath.
Barrass and Machin had each admitted two counts of murder, the plot to murder six children and five counts of attempted murder.
In sentencing, Judge Goss told Barrass, "You thought that your love for them and your fear of separating you gave you the right to commit suicide, as well as yours."
Prosecutor Kama Melly told Sheffield's Supreme Court that Machin was Barrass's half-brother – both had the same mother – but both had sex.
She said, "The six children lived alone with their mother, Sarah Barrass. The photo of the Sarah Barrass family before the events of 2019 was, for the outside world, the home of a loving single mother with six children, backed by her brother Brandon Machin.
"In fact, everyone, except the accused, did not know that Brandon Machin had a sexual relationship with his half-sister Sarah Barrass and that he was the father of his six children.
"The children believed and even told the police on the scene that their father had died during the Second World War."
On 23 May, the defendants collected tablets around Barrass's home and spread them among the four oldest children, expecting them to die.
"None of the children wanted to take the tablets but was forced to do so," she said.
The court learned that Barrass had sent messages and posted "light" messages on social media overnight, claiming that children were suffering from a disease virus.
Melly added, "They decided that the children were better dead than guarded." After strangling the boys, the two men then "placed garbage bags on their heads to ensure their certain death."
After the murders and attempted murder of the young child who was placed in a bath, the mother took the surviving children, who are under 13 years old, to the bedroom and called the police.
Melly said, "Nothing could have prepared these two gendarmes for the scene they had found.
"The police found Sarah Barrass barricaded in a room with the four surviving children. She lied to the police and told them that her other two children were with neighbors.
"However, while she was saying this to the police, one of the children made the police officer understand that in fact the children were dead – he put his hand on his throat. Sarah Barrass told the child to stop doing what he was doing and said, "Stop, do not say that."
Despite vomiting and hallucinations, the youngest survived the attempt to kill them and were treated in intensive care. The two youngest surviving children were under three years old.
The court heard that Barrass had asked for help from the local authorities to help the children and had sent a text message to a friend saying: "I thought of all the possible solutions to remedy this mess. Murder en masse, put them all in care, checking in the local nut house.
"I love my children too much to kill them. I can not warn them for the same reason. "
In her defense, Bryan Cox QC admitted that Barrass's crimes were "only evil," but added that she was "deeply damaged by her childhood."
The court learned that Barrass had grown up in a house where she had been neglected and abused psychologically, physically and sexually, before finally being taken care of.