---
More people contracted HIV in 45 countries than in the previous year, the AIDS fund reported on Monday. According to the organization, the fight against the AIDS epidemic is hindered by inequality and discrimination.
De cijfers
1,5 miljoen mensen raakten vorig jaar besmet met hiv
Ruim 650.000 mensen overleden aan de gevolgen van aids
Wereldwijd leven 38,4 miljoen mensen met hiv
A report, which is published annually around World AIDS Day, shows that the AIDS epidemic worldwide is shrinking less and less rapidly. In Eastern Europe and Central Asia, the Middle East and North Africa, the epidemic has actually grown over the past decade. In Asia and Latin America, where HIV was previously fairly under control, infections are now on the rise again.
One of the countries where the number of HIV infections is increasing rapidly, especially among risk groups, is El Salvador. The number of HIV infections among men who have sex with men has doubled in a year and among transgender women is eight times higher than in the previous year. According to the Aids Fund, this is partly due to stigmatisation.
"Too many people are excluded from life-saving care simply because of who they are, where they live and who they love," says Mark Vermeulen, director of the Aids Fund. "In more and more countries, there is a political reluctance to invest in accessible health care, a fundamental right that is not recognized. After 40 years of efforts and scientific progress, too many countries are now taking big steps backwards."
Especially increasing among young people and women
The increase in HIV infections is particularly visible among young people aged 15 to 24. Girls and young women in sub-Saharan Africa are particularly hard hit: they are three times more likely to contract HIV than boys of the same age. According to the Aids Fund, this is partly due to a lack of education and information.
Corona also had a negative impact on the control. Money that would have been used for AIDS went to fighting corona and the economic problems that followed the pandemic.
In addition, Western countries make less money available for funds to fight AIDS in any case, sees the AIDS fund. The Global Fund, the global fund to fight HIV, TB and malaria, called on international donors to increase their contribution by 30 percent for the coming years. Some countries have done so, the Dutch government increased its contribution by 15 percent.
"The global ambition to end AIDS must not diminish," said Vermeulen. "It is precisely now that the Dutch government must continue to defend the health rights of women and minorities and continue to support international funding for the fight against AIDS."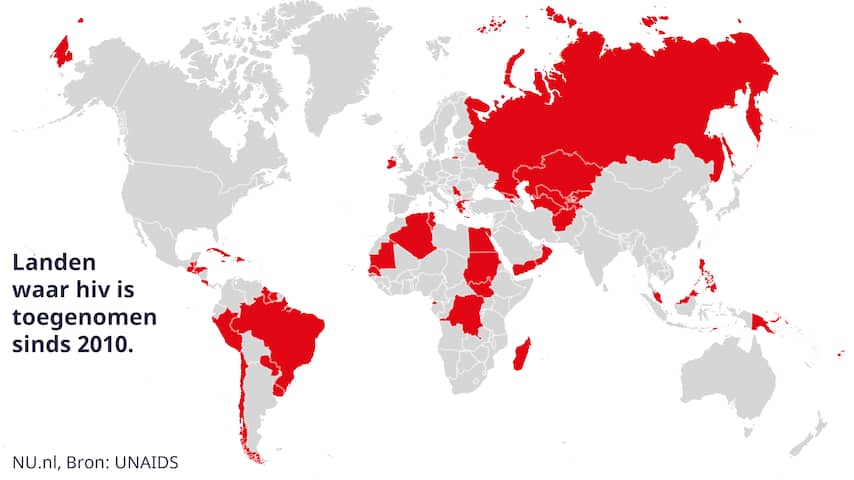 Medications and preventatives
No one has to die of AIDS anymore, emphasizes the AIDS fund in the report. There are medications and there are preventatives, such as PrEP.
The fact that this drug seems to be effective was shown two weeks ago. The number of new HIV diagnoses among men who have sex with men is falling rapidly in the Netherlands. According to the HIV Monitoring Foundation, this decrease means that the prevention pill is working well.
At the same time, not everyone has access to this resource. Since 2019, the drug has been available through the GGD for a limited group of men through a national trial. In addition, the pill can also be obtained from the doctor, but it is much more expensive.



Zie ookPreventiepil lijkt te werken: minder hiv bij mannen die seks hebben met mannen
Eerder
---
---
---