News">

Contents

Albert Rösti used to fight first and foremost against the climate protection law. Now he has to change sides as Federal Councilor.

"I support the Climate Protection Act on behalf of the Federal Council." That said SVP Federal Councilor Albert Rösti on Wednesday at his first appearance in front of Parliament.

A few months ago that was hardly imaginable. In October, his party launched the referendum against this "electricity guzzler law" – with hash browns in the referendum committee.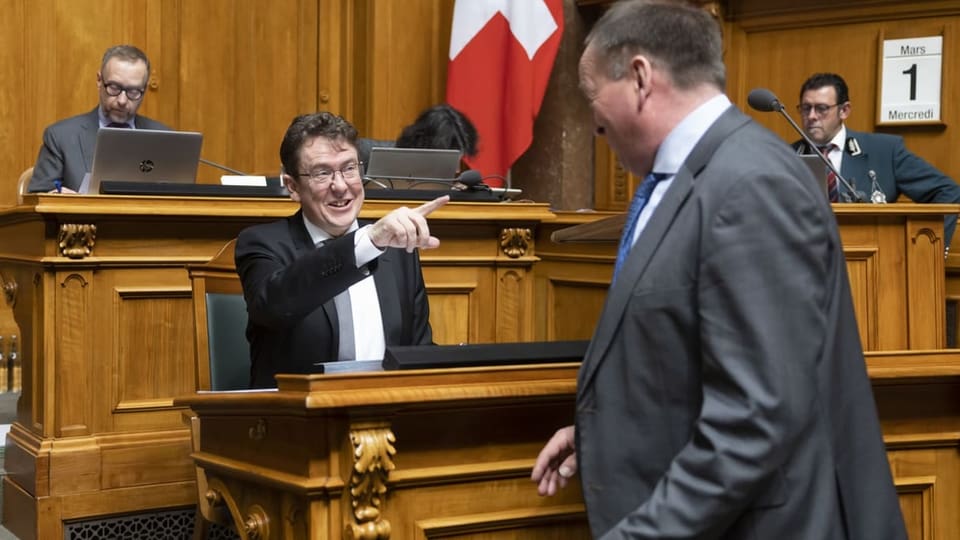 Rösti's election to the Federal Council at the beginning of December brought about a change of role. Committed to the principle of collegiality, Rösti, as chairman of the Federal Department for the Environment, Transport, Energy and Communications (UVEK), has to fight for the climate protection law on behalf of the Federal Council.
Taunts from the left
Unsurprisingly, on his first appearance in Parliament, Rösti was nudged slightly from the left.
"Perhaps you can ask the Federal Council, he will be happy to explain to you why a yes is needed to the counter-proposal to the glacier initiative," said Zurich Green National Councilor Bastien Girod.
Martin Bäumle (GLP/ZH) also took the opportunity at the lectern to give Rösti a little dig: "I'm looking forward to the voting campaign with our new Federal Council on this climate law," said Bäumle directly to Rösti.
However, the new Federal Council responded with charm to the small taunts from the parliamentary left. With a big smile on his face, the Bernese Oberlander said: "I'm looking forward to fighting with you."
"Performance as expected"
For political geographer Michael Hermann, Rösti's first appearance was as expected. "I have the impression that it's easy for him," says the head of the Sotomo research center.
When it comes to Rösti, you notice that he is involved in the energy issue. Because expanding renewables or the basic idea of ​​decarbonization is not just a left-green concern. But: "He remains an SVP politician and knows that he has to serve this audience," says Hermann.
When it comes to referendums, Rösti is a trump card for the climate alliance.
In addition, the small side swipes – if at all – were not malicious, but rather the opposite, according to Hermann. Based on the narrow rejection of the CO₂ law – at that time with SP Federal Councilor Sommaruga as Uvek head, one is glad to have Rösti in their own ranks. "When it comes to referendums, Rösti is a trump card for the climate alliance," says Hermann. Rösti is credible and knows how to talk to the people who said no at the time.
It will not be the last time in this spring session that Rösti will have to take opposing positions from his party. There are other topics in the area of ​​energy transition, such as the acceleration of wind farm projects and power supply with renewable energies.
Daily show, March 1st, 2023, 7:30 p.m
Well informed at all times!
Receive all news highlights directly via browser push and always stay up to date. More
Push notifications are brief notifications on your screen with the most important news – regardless of whether srf.ch is currently open or not. Click on one of the links to go to the corresponding article. You can opt out of these communications at any time. Fewer
You have already hidden this notice about the activation of browser push notifications several times. Do you want to permanently hide this notice or be reminded of it again in a few weeks?