Par Le360 (with MAP) on 01/21/2023 at 2:51 p.m.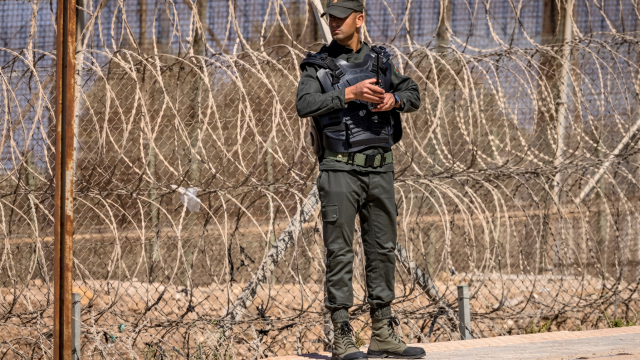 An element of the Auxiliary Forces stands guard near the fence separating Nador and Melilia.
© Copyright : Fadel Senna / AFP
An illegal migration operation was thwarted, this Saturday, January 21, 2023 in Oujda, by the prefectural service of the judicial police of the city, in collaboration with the General Directorate of Territorial Surveillance.
The elements of the prefectural service of the judicial police of Oujda succeeded this Saturday morning, on the basis of precise information provided by the services of the General Directorate of Territorial Surveillance, to thwart an illegal migration operation and to arrest three Sudanese for their alleged links with a criminal network active in the organization of clandestine migration operations and human trafficking.
The General Directorate of National Security (DGSN) said in a statement that the three suspects were arrested after being suspected of being involved in the illegal trafficking of migrants from the eastern borders of the Kingdom and in the preparation of a migration operation by escalation and intrusion.
Morocco continues its offensive against illegal immigration
The suspects were caught red-handed, sheltering 105 candidates for illegal emigration in houses in the city of Oujda, the statement said. The interception and inspection operations carried out in this context resulted in the seizure of a number of iron objects attached to a wooden case, which would have been used to climb the metal fence of Melilia, in addition to tools blunt instruments, electronic devices, passports and identity documents on behalf of third parties.
The three suspects and the rest of the candidates for migration have been the subject of a judicial investigation carried out under the supervision of the competent public prosecutor's office, in order to elucidate the ins and outs of this case and to determine all the ramifications and all the links of this criminal network, concluded the DGSN.
By Le360 (with MAP)