In March of this year, Ring announced the launch of two new smart doorbells that became integrated into its growing ecosystem and updated its product line. Today one of them arrives in Mexico: Ring Video Doorbell 3.
The idea of ​​the Ring Video Doorbell 3 is extremely simple but attractive, since This doorbell has a camera and will let us see who is at the door, in addition to being compatible with the Alexa ecosystem and we can even connect it to electronic locks to further automate our home.
Ring Video Doorbell 3 Technical Specifications
| | Ring Video Doorbell 3 |
| --- | --- |
| Video | HD 1080p, live video and night vision |
| Field of view | 160 degrees diagonal |
| Dimensions | 128 mm x 62 mm x 28 mm |
| Connectivity | WiFi 802.11 a/b/g/n @ 2.4GHz & 5GHz |
| Audio | bidirectional noise canceling |
| Feeding | Detachable rechargeable battery included or compatible with connection to electrical power |
| Compatibility | iOS 9.3 or later; Android 5.0 or later |
| Others | Operation between -20 ° C and 48 ° C and waterproof |
| Price | 5,899 pesos |
As we saw in the specifications, the Ring Video Doorbell 3 now integrates dual-band WiFi, which will help us maintain a more stable and faster connection when using the 5Ghz one. It keeps motion detection at a distance of between 1.5 to 4.5 meters, as well as being able to choose zones to exclude them from this detection and thus we are not receiving alerts constantly.
The Video Doorbell 3 is operated through the Ring app, available for both iOS and Android, and from here we can see who knocks on the door, with live video, talk to that person and listen to them, until the door is opened remotely in case of having an electronic lock connected.
By using Alexa we can get more out of the Video Doorbell 3, since if we have an Echo with a screen we can ask Alexa to show us who is at the door, or activate other commands through other connected devices in our home.
The doorbell works by an integrated rechargeable battery, but it can also be connected to our doorbell and work in parallel to take advantage of the connection we have at home.
The Video Doorbell 3 camera is Full HD 1080p and allows to record video if we have a contracted Ring Protect planIn addition to that we can link all our Ring cameras to operate them from the same app or other devices.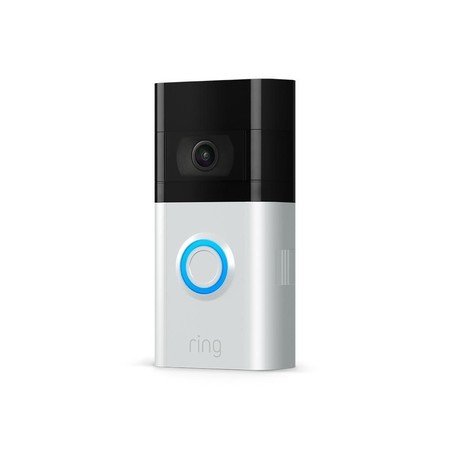 Ring Video Doorbell 3 price and availability in Mexico
Ring's new Video Doorbell 3 doorbell is now available in Mexico through Amazon, as well as other electronics and self-service stores. Its price is 5,899 pesos and includes 30 days of Ring Protect.
New Ring Video Doorbell 3 – with 1080p HD video, improved motion detection and easy installation
Themes
Home automation
Internet of Things