Little mark that goes up, Sivgalittle sister of Sandy, is a specialist in value for money when it comes to premium Hifi headphones. Its mid-range Phoenix model is an open-back headphone with a seemingly classic design, but whose musicality may well surprise us.
Sivga Phoenix
Type: Hifi open headphones with over-ear pads
L'avis d'ON-mag :





(4,5/5)
Prix : 280 euros
>>> FIND ALL OUR TESTS IN OUR GUIDES ET ONLINE MAGAZINES
The school of the wooded helmet
Like the Sendy Aiva model, the Sivga Phoenix is ​​a helmet that gives pride of place to design and materials. Nothing terribly innovative here, but its airy air blends very well with its semi-premium design. We are talking about semi-premium insofar as the Phoenix still does not reach the excellence of its big brother (much more expensive) and displays some strange elements, such as its somewhat cheap chrome strapping.
Nevertheless, with its Zebrano wooden shell, its metal structure and its hybrid pads (in imitation leather and velvet), the Phoenix knows how to take care of its presentation. In addition, its wide elastic headrest and its weight of only 296 g ensure excellent comfort. Only very small heads may be disappointed, because the Phoenix, despite the good amplitude of the headband adjustment, is not universal.
Important detail for some: the presence of a dedicated cover brings a certain transportability to this open helmet. This cover is both rigid and fairly well made, if not discreet.
An energetic, full and spacious sound
There are only a few miracles in the acoustic field. Thus a helmet with dynamic transducers of 50 mm can hardly compete technically against planar models, at least in the low end of the spectrum. This difference is obviously felt here, but the sound signature is nonetheless a beautiful alliance of power and control.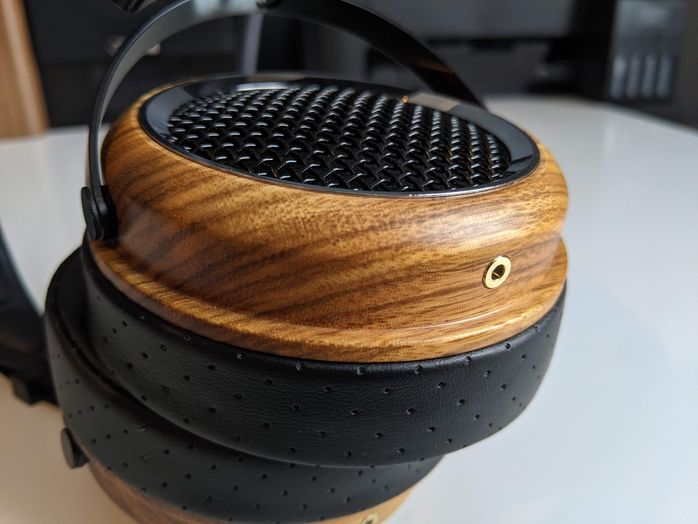 The sound of the Sivga Phoenix develops a very slight accentuation in the bass, as well as a few cleverly measured peaks in the treble. Without being of an imperial balance, these headphones do not adopt any radical sound bias. Even more, it combines its versatility with a very good level of detail and a relatively ample and coherent stereophonic scene. We are thus dealing with a helmet that is certainly demonstrative, but offers a fairly good general balance.
In addition, the Sivga Phoenix is ​​an extremely simple Hifi headset to power. Apart from a few smartphones still equipped with a not very powerful 3.5 mm jack output, most audio devices already allow you to exploit almost all of its potential. A good DAC/headphone amp set brings a not insignificant plus, in particular to channel some of its peaks, but we are far from the requirement of a Sennheiser HD600 for example.
Inevitably, the price of 280 euros requested places it all the same against serious competitors such as the Philips Fidelio X3, the first Hifiman planar models and the old guard, like Sennheiser, AKG and Beyerdynamic; everyone has their say. As such, if it is not the most technical of the lot, in particular in terms of its authority in the bass, the Sivga Phoenix is ​​undoubtedly one of the most musical.
Benefiting from a good presentation, offering almost irreproachable comfort and an expressive but controlled sound, the Sivga Phoenix is ​​therefore a safe bet in its price range.
The Sivga Phoenix on the measuring bench

Measurement (uncompensated) of the frequency response of the Sivga Phoenix. In red, the measurement with the leatherette pads. In green, with fabric pads. Some differences remain between the two pads (but very small in practice) and do not change the fairly powerful character.
>>> READ ALSO: ALL OUR HIFI HEADPHONES TESTS
Specifications
Type: Hifi open headphones with over-ear pads

50mm dynamic drivers

Solid wood hulls

Frequency response: 20Hz to 20kHz

Impedance: 32 ohms

Sensitivity: 103dB

Y-cable with 2.5 mm jack termination (headphone side)

Accessories: 3.5 mm jack cable, 3.5 mm jack to 6.35 mm jack adapter, hard carrying case, carrying pouch for cables

Weight: 296g

Prix :

280 euros
Our opinion
Other articles that may interest you on ON-mag and the rest of the web
---
WATER