If the smartphone market is in a renaissance, and buyers have never enjoyed such low prices for iPhones and Samsungs, then laptops are definitely in a bad way. The offers are such that you want to bang your head against the wall and yell: "Who will buy this ?!".
First, laptop prices are outrageous. Shuttle laptops are more difficult than smartphones. After Apple and Samsung stopped charging, even more boxes fit into the backpack. This is not the case with laptops. Even 5 boxes is already a significant volume and weight. Because of this, offers appear on the market, like the Lenovo ThinkPad T14 Gen 2 for 200 thousand rubles. And the price of this laptop is about $1,300.
Secondly, unlike smartphones, laptops have a lot more configuration options that drastically affect the price. Accordingly, they try to import top-end devices, which directly affects the price.
The shortage of laptops is especially pronounced at Avito. Look at Denis, who wants to sell a "new" laptop for half a million, which he "used only 3 months", on the I7-9750H processor and with an RTX 2070 card. There is also a watermark on the photos that they were taken in 2019.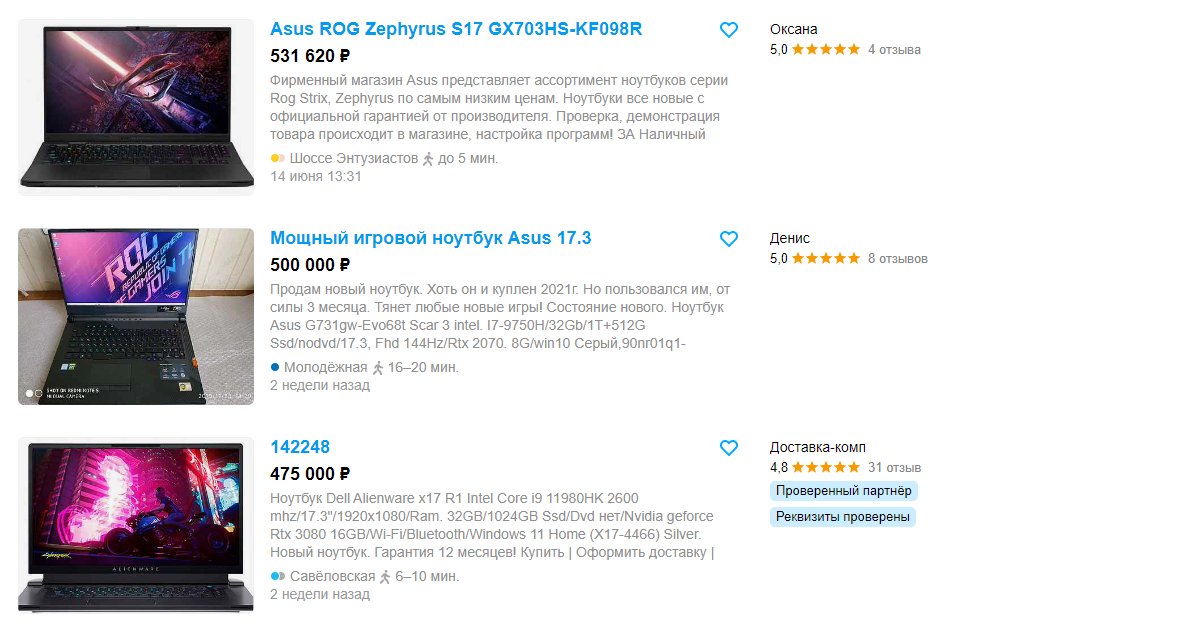 By the way, for 2021, the average price of a laptop in Russia is 57.5 thousand rubles.
Let's try to find the most profitable stories that are currently available. To do this, you have to look at the gray market. And here, of course, one can sympathize with the regions, since good proposals in Moscow can also be counted on one hand.
Table of Contents
Apple MacBook Pro M1
Price: from 90 000 rubles
The laptop should directly correlate with the tasks that you plan to perform on it.
If we are not talking about games, then the Apple MacBook Pro on the M1 chipset may be the best solution. A premium laptop that will serve you faithfully for many years. Although I switched to Windows, I still have a 2014 MacBook Air and a 2019 MacBook Pro. The girl uses them as home laptops. Both machines still work great, and I take them from time to time when I go to places where I'm afraid to take my good laptop (for example, on a hike).
With the transition to ARM-architecture, MacBooks got a second wind. Now these are not just typewriters, but real productivity monsters. What can I say if you can now edit 8K video. And you don't even need to plug your laptop into a power outlet.
And the energy efficiency of the laptop is beyond praise. The device will easily last 15 hours or more.
Plus, add long-term support from Apple here. Accordingly, by purchasing a MacBook Pro, you will overpay at the start, but in 8-10 years it will be a good laptop.
Apple recently introduced a new version of the laptop based on the M2 chipset. But as the first reviews show, I saved on cooling, respectively, the new more powerful chipset throttles and, as a result, works slower than the M1.
You may also want to save money and buy an Air instead of a MacBook Pro. You don't have to do that. Then you will suffer that there are not enough ports. Plus, the cooling of the firmware is better, which means that the performance is higher.
The main disadvantage of the MacBook Pro is the small screen. Only 13.3 inches. Accordingly, if you plan to work a lot and productively from home, then over time you can buy yourself a monitor.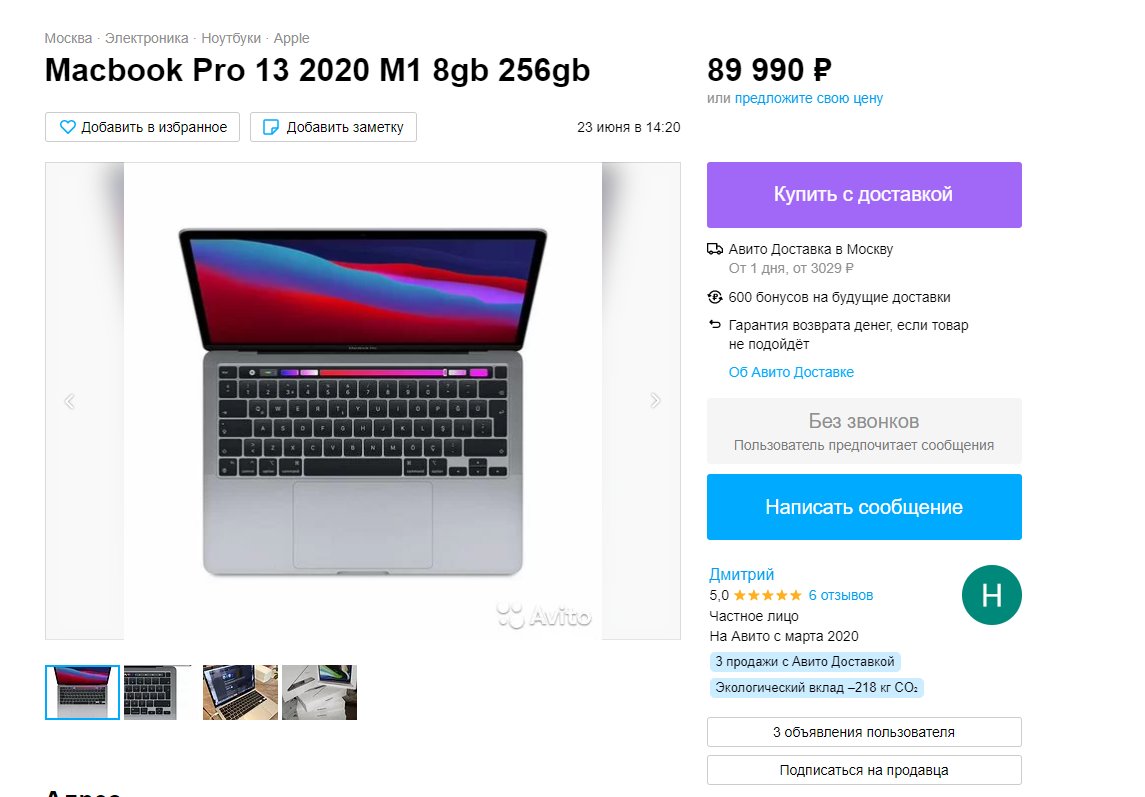 Unfortunately, you will have to go to Avito for a purchase. There, the new Apple MacBook Pro M1 (2020 model) can be found for 90,000 rubles. These are "gray" laptops from other countries, so there will be no Russian letters on the keyboard. You can always engrave. It's inexpensive, but it's easier to learn touch typing.
Asus ExpertBook B1 В1500
Price: up to 60 000 rubles
If you're looking for an ultra-reliable office laptop, look no further than the ExpertBook series from ASUS. This is an example of corporate laptops. Reliable business-rugged laptops, that is, not extremely secure, but designed for work outside the office. So, the laptop uses a certain reinforced coating of the aluminum case, there is a special keyboard frame that enhances the structural strength of the case. Plus, when it comes to the HDD, it uses a foam case to protect the drive during drops. The laptop has two slots – one for the HDD, the other for the SSD. The laptop is MIL-STD-810H certified.
There is a good set of ports (in addition to Thunderbolt 4 and HDMI 2.0, there is even a VGA port), the latest versions of communications (Wi-Fi 6), there is a cool noise reduction system that will come in handy in video meetings (plus a webcam shutter).
The body opens up to 180 degrees. The laptop can be recharged via the Type-C port using an adapter from a smartphone (power adapter).
This is not a gaming device. GeForce MX330 with a maximum of 2 GB will allow you to play tanks and do some light video editing. The battery will last for 5-6 hours in typical office tasks.
On "Yandex.Market" you can find many configurations. The price is around 50 thousand rubles. I emphasize once again that this is exactly a laptop for office tasks – the Internet, mail, Excel calculations, presentations, etc.
You should choose versions with a preinstalled OS. Yes, you can, of course, buy without an OS and go pirating. But pirated Windows is a headache.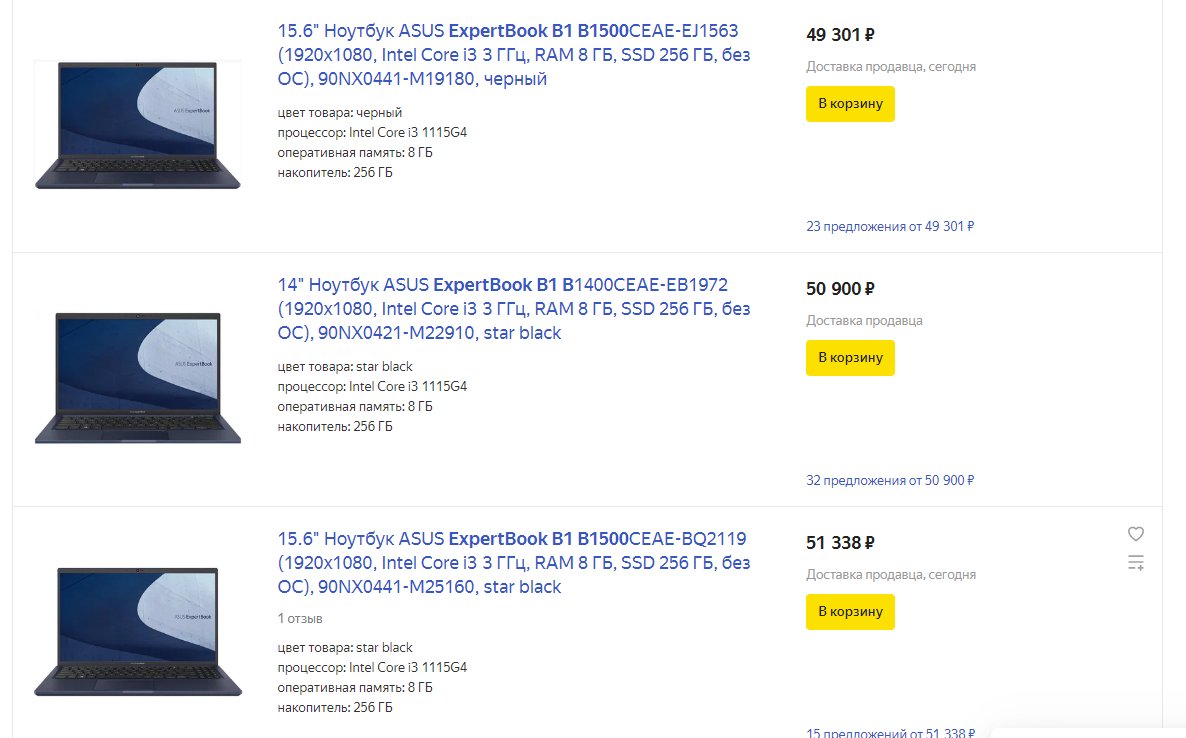 We had a laptop of the ExpertBook line on the site.
If you do not like ASUS, then you can pay attention to the Dell Vostro 3510 models. This is also a corporate laptop. Dell's advantage is ease of repair. But in terms of style, of course, he is inferior. There are quite a few Dell Vostro laptops. The price for them is in the range of 50-59 thousand rubles. Many options without OS or on Linux.
Gigabyte G5 KD
Price: 70 000 rubles
Last year, as part of special projects, we managed to get acquainted with a couple of Gygabyte laptops. I liked both laptops. They had their own style. Plus, I can confirm that the devices were of high quality both in terms of materials and assembly, and in terms of engineering solutions. They sent me a premium AERO line for testing. But there is still an overpayment for the minimum thickness and weight. But the Gigabyte G5, of course, is thicker, but the price is much more pleasant.
A certain Damir is selling a new laptop at Avito. And it's a really good deal. I think Damir is experiencing problems with the sale, since the Gygabyte brand is not so well known in Russia.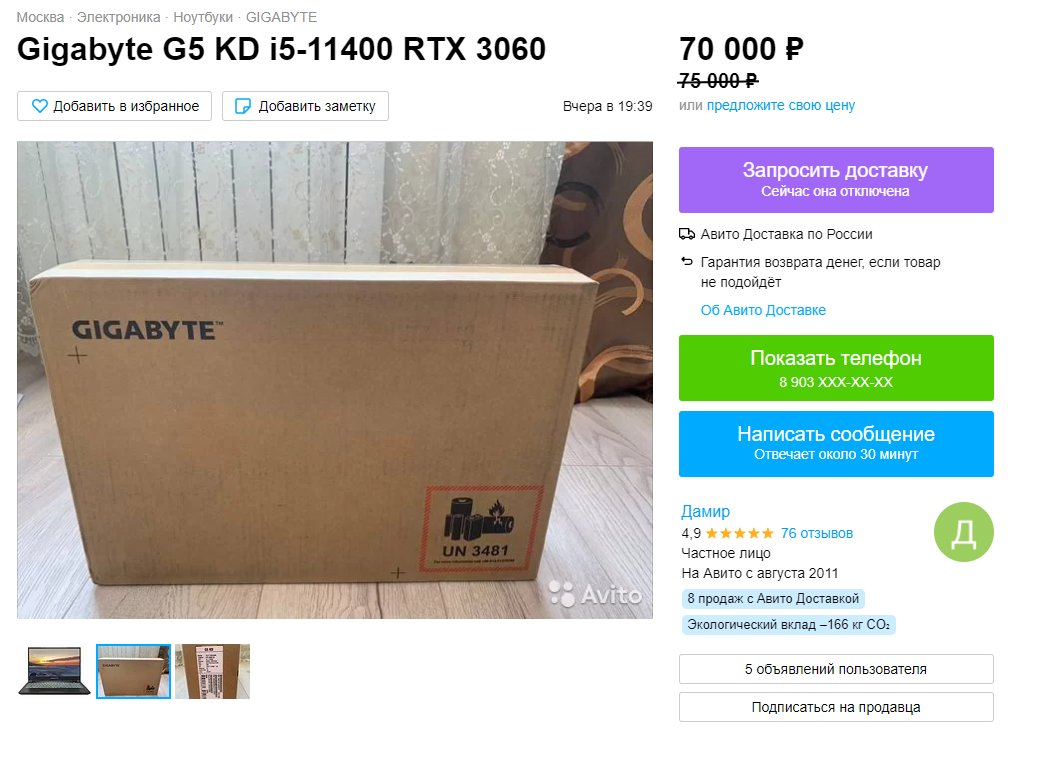 For a modest 70,000 rubles, you can buy a laptop on the 11th Gen Intel Core i5-11400H with NVIDIA GeForce RTX 3060 Laptop GPU 6GB graphics and a 15.6-inch anti-glare screen with a frequency of 144 Hz and a resolution of 1920 × 1080. Plus 16GB of RAM and a 512GB SSD. The weight of the laptop is 2.17 kg.
This is the solution for those who want an all-in-one home laptop with AAA gaming. The laptop's graphics are enough to play Assassin's Creed Odyssey or Far Cry New Dawn at ultra settings above 60 FPS.
The battery life here, of course, is not great. 5 hours as a maximum typewriter. But as a home computer, this is not so important. Of the bonuses, the laptop has an additional M.2 slot, so you can put a second drive.
Gygabyte is really a very good offer, as they usually sell either sad options with a GeForce GTX 1650 or RTX 3050 4 GB for this money.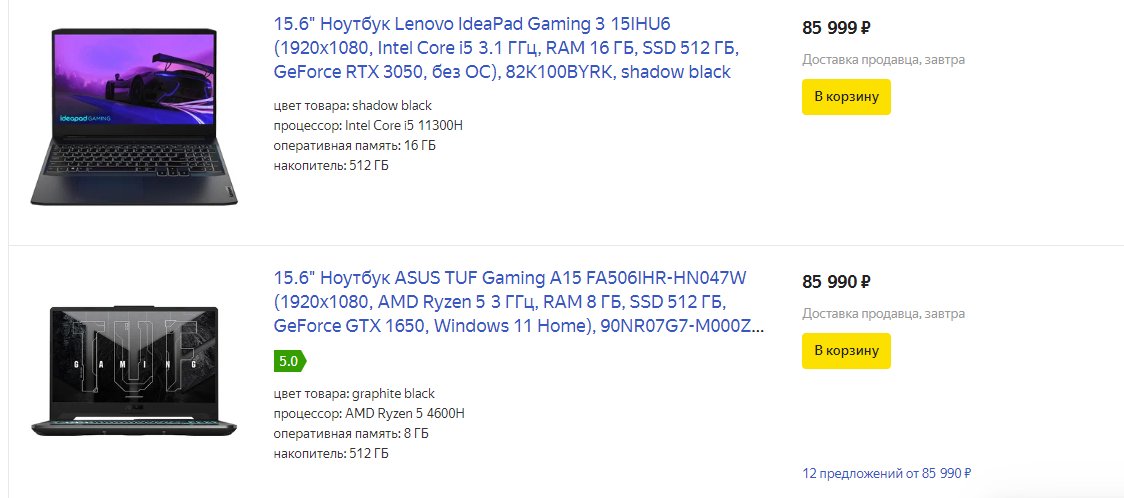 Lenovo IdeaPad Gaming 3
Price: 58 000 rubles
This is perhaps the most affordable version of a modern laptop with discrete Nvidia GeForce GTX 1650 graphics. You will have to go to Avito for a laptop, where the device can be found for 58,000 rubles. For comparison, on the same "Yandex.Market" prices start at 80 thousand.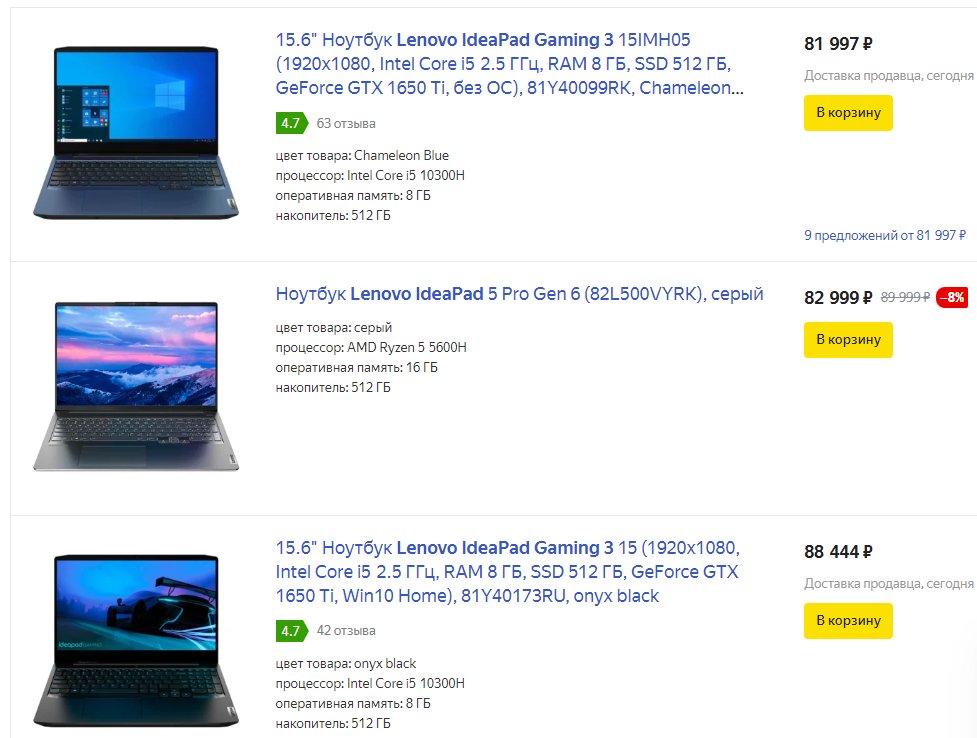 I, unfortunately, did not have the opportunity to fully test the device. This laptop was sent to me, I turned it on and found that the previous reviewer had broken the screen (as if he had sat on it). Accordingly, the laptop was not suitable for shooting, it was taken away, and I never took a new replacement (I was distracted by something more interesting). But I managed to make a general impression.
The Lenovo IdeaPad Gaming is essentially an entry-level solution. Nothing about this laptop is amazing. Average screen, average performance, fairly cheap case, noisy fans, but a nice price. The ideal description is cheap and cheerful. But the main thing is that the laptop works and performs its tasks. And for the money, this is an excellent option for a moderately productive computer, on which you can play games and do video editing. Plus, it's pretty easy to upgrade memory and storage.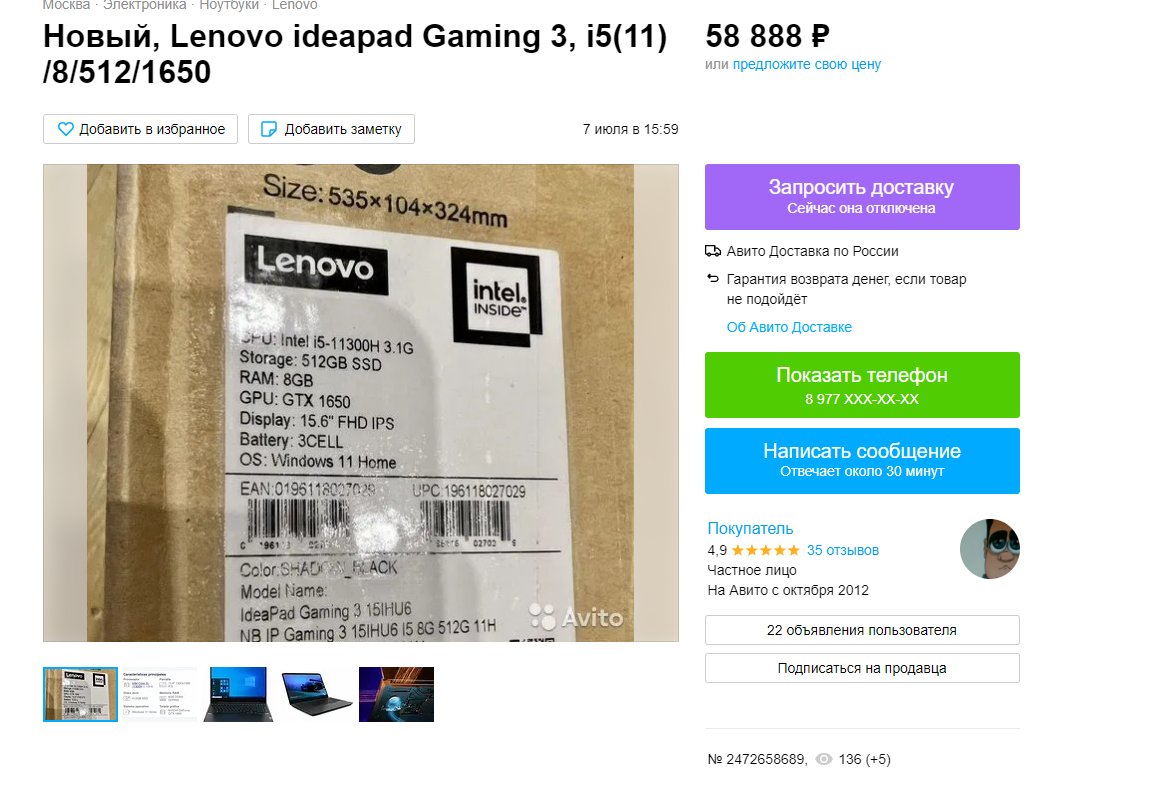 Infinix X2 Book
Price: from 35 to 60 thousand rubles
Infinix and TECNO decided to make the Russian market of strategic importance. Both manufacturers are increasing their presence. Not so long ago, we published a review of the Infinix X2 Book on our website.
The specifications are not great, but not bad: Intel Core™ i7-1065G7 + 8 GB + 512 GB. Metal body, fairly bright screen, compact size and good battery life. Supplied without operating system.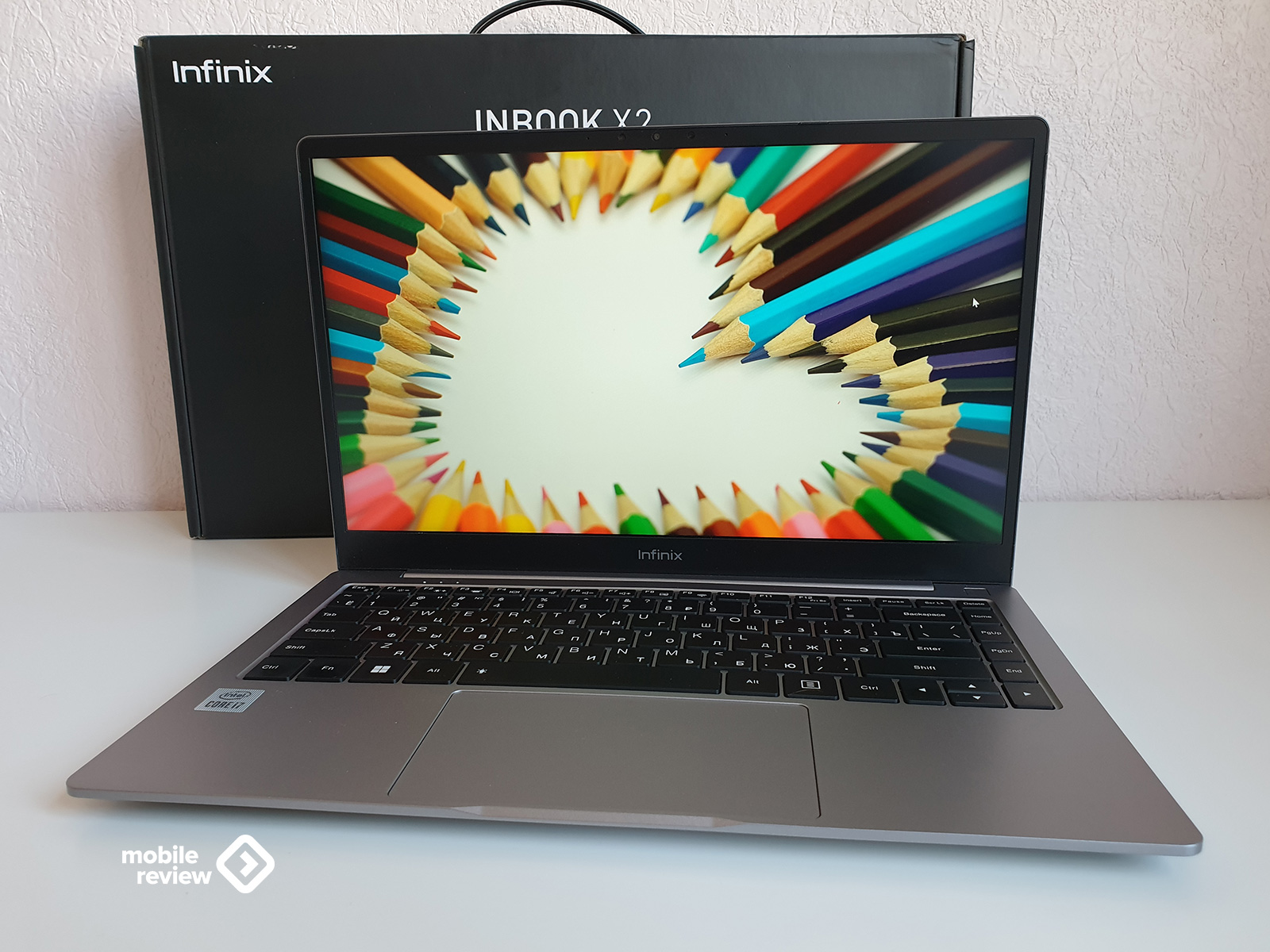 The main advantage of this laptop is that it is available and at a good price – from 35 thousand rubles for the younger model. The older ones have already been taken apart. But there will be more deliveries.
The laptop is still with me, I work with it on an ongoing basis. Now I installed Linux on it as a second OS, as I am preparing material about life on Linux. The number of deliveries of laptops without an OS is growing, and Microsoft can create new problems at any time.
I had a model on the test with a 10th generation Intel Core i7, and for 35 thousand they offer an Intel Core i3. But competitors generally offer Intel Pentium or Celeron for this money.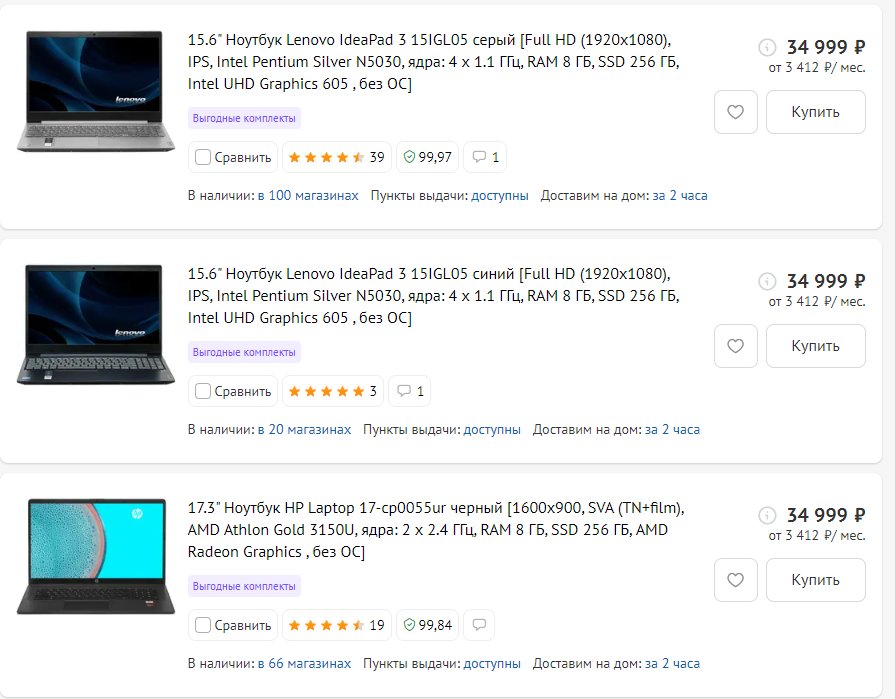 I would not offer the top version of the laptop, as there are other solutions. But the initial models are very interesting.
Conclusion
The situation in the notebook market is depressing. To buy a good laptop with powerful graphics, you need at least 140-170 thousand.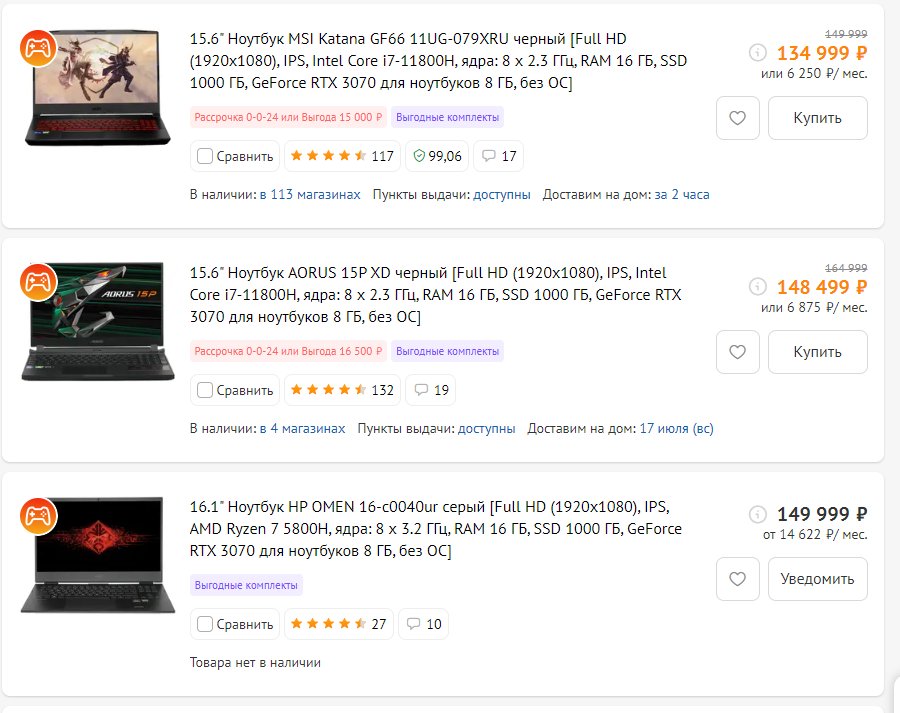 There are few manufacturers, goods are in short supply. And, probably, if there are 100 thousand rubles, then it's better not to even buy a laptop, but to try to assemble a desktop. Perhaps play the lottery and buy an Nvidia card from some unfortunate miner and hope that it is not very dead.
Pretty good prices only for Apple products. It is logical that the first thing the gray trucks rushed to buy were MacBooks: you will never be lost with Apple. But the supply seems to outstrip the demand.
In the comments, stories and diagrams are welcome on the topic of where, how and for how much you can buy a good laptop.